Politics
2023: God is saying something to Nigeria in Peter Obi, says Umeh
Politics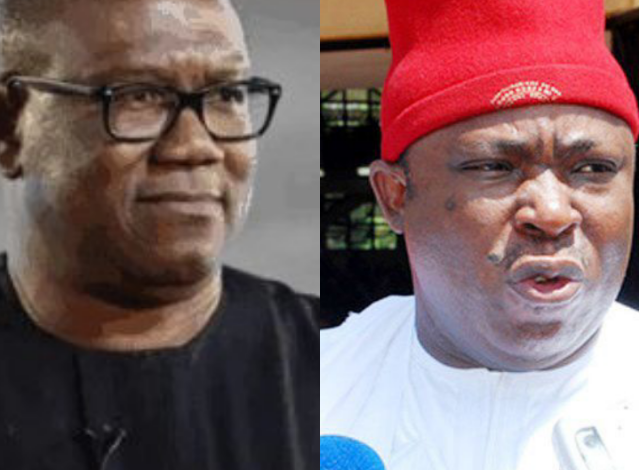 Tony Okafor, Awka
A former national chairman of the All Progressives Grand Alliance ( APGA), Senator Victor Umeh, has said God is saying something to Nigeria through the LP Presidential candidate, Peter Obi.
Describing Obi as a sign from God, Umeh who is the senatorial candidate of LP for Anambra Central District, said Nigerians should take the message very seriously in order to enjoy prosperity.
He said, "Peter Obi is anointing from God. It's like when God showed the three wise men where Jesus was kept in a manger through appearance of a star which they followed to Bethlehem and found Jesus.
"Anywhere Peter Obi crosses in Nigeria, God will tell the people, look at the one you're looking for. It's of God and a sign from God which we must take very seriously. He has a mission to accomplish.
"Everywhere he goes to the applause is always alarming. God is saying something; He is saying here's the one that will lead you to prosperity. Even those who don't know him will always want to identify with him.
Umeh said Nigerians should take the sign very seriously in order to enjoy prosperity.
Asked whether what the " Obidients" were doing across the country did not amount to campaigning, Umeh said, "Nobody is campaigning for him. Have you seen Peter Obi address any rally? Campaign has to do with rallies. He has never gathered people to talk to them. Instead, what he does is delivering lectures and conferences.
"That people shout anywhere his name is mentioned doesn't translate to campaign, but a recognition. He's never told anyone to vote for him."
Umeh who spoke with our correspondent in a function in Awka, the Anambra State capital on Monday, said the electorate would triumph over the so-called structures in the 2023 general elections.
Describing the electorate as the most important element in elections, Umeh said the outcome of next year's polls would be determined majorly by voters, adding that the apostles of "structure" would be taught a bitter lesson with what they would see., stating "structures remain the voters. What is most important in the election is the voter, not those who wish you to win. You can have structure and still fail. Osun governor had structures and still failed. That's the power of the electorate."