News
Letter to Ojukwu at 89 by Victor Oye (Ozonkpu)
News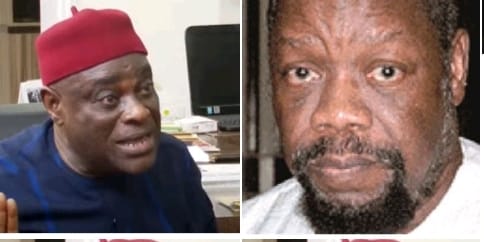 How do you do, Nnanyiukwu? We are certain you are enjoying the bliss of heaven. Two days ago, we marked the Solemnity of All Souls – an event that reminds us continually of our mortality and the transience of this earthly life. We remembered you specially in all the masses celebrated across the country on that day for God to grant your beautiful soul continued rest in his bosom.
One that has remained indubitably true is that you loom, even, larger in death than in life. Since you departed this sinful world to be with your Maker, no single day has passed without the thought of you enveloping us. Yes, we, your true apostles, miss you sorely and have borne the grief of your loss in our bruised hearts permanently.
When we look back at all the sacrifices you made in the struggle to keep our nation as one we beat our chests in adulation.
The real test of the greatness of the human person comes after his demise. Many had died and had been consigned into oblivion. But for you, everyday the sun rises with the fond memories of you in our hearts.
Like William Shakespeare who died in 1616 and whose literary works are still evergreen, you have shone like a million stars globally.
You were a man of many paths – a rare breed, a martinet of immeasurable acclaim, an intellectual giant and an unfazed Field Marshal.
You were born into affluence, but chose to carve a niche for yourself by facing the challenges that life trusted upon your shoulders with such unremitting acuity, resoluteness and candour.
The legacy you bestowed on us has remained our guiding principle and moral compass. Contrary to the jaundiced opinion of some armchair critics you were a lover of peace and justice and respecter for human dignity.
You would have been 89 years today in the physical world, but we still celebrate you – not minding the yawning divide between our two diverse realms.
The APGA you helped to nurture into a formidable national party and led with dignifying capacity has continued to soar like the eagle. From where you left it we have taken it to another real level, with hope rising to record more resounding feats.
Some of those that professed loyalty to you and APGA while you were alive, that they would never abandon the party, have suddenly joined opposition parties. We recall with heavy hearts how some of them even went to your graveside to swear that they would never leave APGA. Painfully too some of them swore that their families should perish if they ever abandoned APGA.
We did not report their unfaithfulness to you to seek any vengeance, because we know that you were a man with a heart of gold, rather we have brought the matter to you to join us to pray for divine forgiveness upon them, so that the curse they evoked upon their families would not come to pass.
Your son, Chukwuemeka Ojukwu, Jnr., and your darling wife Bianca now serve as our Board of Trustees (BOT) Members. Their contributions to the advancement of our great party have been remarkable. In fact, they have kept the light aglow, despite obvious challenges.
I was not the National Chairman of APGA when you joined the Saints Triumphant. I was elected alongside 29 members of the National Working Committee (NWC). Nevertheless, we have fought with unrelenting tenacity to sustain the legacy in the party for which you lived and died. Peter Obi was the governor of Anambra State when you passed away on November 26, 2011. He is now the Presidential candidate of Labour Party.
In your absence Willie Obiano became governor and completed his two-term tenure on March 17, 2022. He handed over to an erudite Professor, Charles Chukwuma Soludo (Nwa Mgbafor). Soludo has excelled to the admiration of our people.
The general election is 112 days away – counting from today. We seek your intercession to God to touch the hearts of our people to stick to APGA. We cannot afford not to uphold the ideology for which the party was founded.
We have taken the message of APGA to every nook and cranny of Nigeria, registering impressive results in the process. Since your transmutation into eternal glory, we have won three House of Representatives seats in Benue, one in Taraba State, six in Anambra State and one in Niger State. We have also won six House of Assembly seats in Imo State, two in Bayelsa State, 24 in Anambra State, 11 in Abia State, and one in Taraba State.
Worth mentioning was the victory of Chief Victor Umeh on January 13, 2018 that saw him become a distinguished Senator of the Federal Republic of Nigeria. The first APGA Senator from Anambra State.
Kindly pray for us that the spirit of APGA will continue to resonate in our lives, and that those that professed loyalty to the party in your name keep to their vows.
We do not seek the downfall of anybody. Instead we pray for repentance and the imbing of the spirit of forbearance.
As we labour dutifully to keep the light you lit aglow, we beg you to tell God not to allow our people to continue to gloat in confusion, self-conceit and misery. Make them understand that as a people we must band together to survive and restore our self-dignity.
Make our people understand that the current campaigns of calumny, subterfuge and divisiveness will not take us to anywhere. Let them know also that we should remain united and work with one accord for the good of all.
As I penned this tribute I recall with nostalgia the peace meeting brokered by the then Governor Orji Uzor Kalu of Abia State between you, Muhammadu Buhari and Ibrahim Badamosi Babangida at Igbere. You spoke with such fineness and alacrity that reconciliation was achieved with minimal effort.
You were a good man and posterity will continue to remember you favourably.
Adiue, our Field Marshal, until we meet to part no more.
Ozonkpu Dr. Victor Ike Oye,
National Chairman, APGA
November 4, 2022