Politics
Anambra: NNPP Senatorial candidate threatens to sue INEC over blurred logo
Election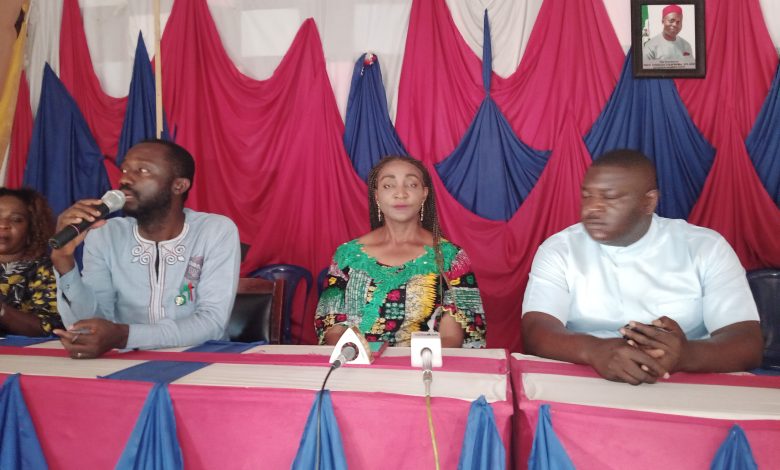 Tony Okafor, Awka
The Senatorial Candidate of the New Nigeria Peoples Party( NNPP) for Anambra Central Senatorial District,
Princess Helen Ifeoma Mbakwe has threatened to sue the Independent National Electoral Commission ( INEC) over the logo of her political party that she claimed to be blurred on the ballot paper for the Senatorial poll of February 25.
Mbakwe who lost in the poll to the Labour Party Candidate in the poll, Chief Victor Umeh, stated this on Friday at a press conference at the Anambra State Secretariat of the Nigeria Union of Journalists ( NUJ), Awka, the state capital.
She said, " I want to congratulate Senator Victor Umeh for emerging victorious. And I wish him well as he works for the interest of our people in all circumstances and situations at the Red Chamber
"To me and the other candidates I most sincerely commend the spirit of sportsmanship we exhibited throughout the contest untill a winner was announced. Always, Let brotherly love rule.
"I want to most especially thank our Governor His Excellency Professor Charles Soludo for providing the calm violence free environment for this 2023 Presidential Election
" I want to thank my people from Anambra Central Senatorial zone, God bless youall for me . I appreciate your democratic spirit to participate in this 2023 Elections …You braved it and you excised your franchise.
"Again, my utmost love and appreciation to all those who voted for me, especially my Abatete people for their block votes, despite the short period that I joined the race to campaign. I am glad to have pulled the number of votes I did, notwithstanding the challenges of my party's logo identification experienced by those who voted and those who intended to vote for me. Our logo was blurred or practically non existent on the ballot papers, thereby confusing my voters.
Mbakwe added, "Let me in the strongest terms condemn the poor handling of the printing of my Party's Logo on the Ballot Papers by INEC thereby frustrating my ambition and the bright chances I had to contribute to a better Nigeria 🇳🇬.
"We all know the details of the logo of NNPP, which is "Basket of Fruits" and the Party name NNPP whereas INEC presented nothing that looked like basket of fruits nor did INEC present the acronym NNPP on the Ballot Paper.
"The INEC Ballot Paper NNPP's logo confused many of my supporters and they voted any party (LP / YPP)
"In the parts of Anambra Central where I have strong supporters like in Idemili North and South , INEC officials never showed up till Noon and thereabouts. This too, disenfranchised many early birds who had trooped out to vote for me
He statement continued, "I am still ready to serve my people because I believe strongly in the principles of the rule of law , equity , equality, fairness and justice, hence my desire to serve my Senatorial zone. My patrotism is unflinching and my zeal to contribute to Repairing my Country is still alive and burning,
"Concerning NNPP's logo that was blurred and practically nonexistent on the ballot papers and the part played by Independent National Electoral commission , INEC, I'm talking with my lawyers as I'll be moving for a cancellation of the Senatorial Elections as I was completely left out of the voting processes after having campaigned vigorously
" I pray our people and supporters of NNPP as well as Nigerians to be calm while the leaders of our great party NNPP chart a course for us as regards the errors pepetuated by INEC against our Party NNPP
"As I conclude, I thank the media in Nigeria for living upto expectations before , during and after the Presidential elections as they work to keep within the dictates and norms of Journalism and as members of the fourth estate."