Health
Anambra: Women, children troop out for UNICEF COVID-19 vaccine, other immunisations
Health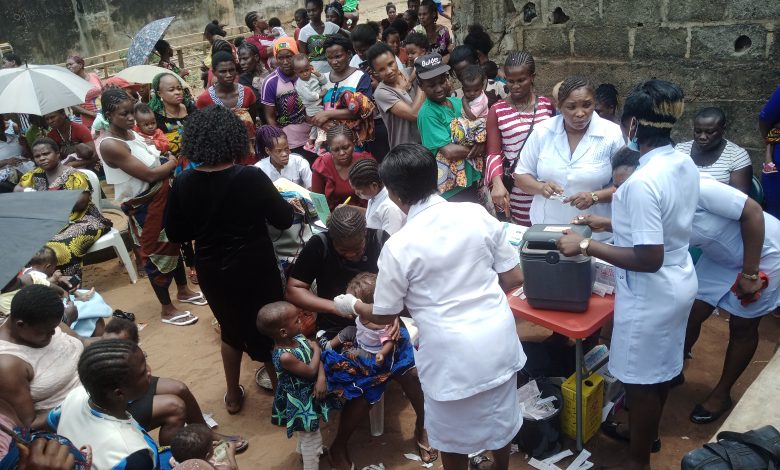 Tony Okafor, Awka
Scores of women in the slum riverine area of Okpoko in the Ogbaru Local Government Area of Anambra State on Thursday trooped out to receive COVID-19 vaccine sponsored by the United Nations International Children's Emergency Fund (UNICEF)
Most of the women also availed their children for other immunisations
Mrs Modesta Chukwuneke, the local immunization officer for Ogbaru said the mass interest for the COVID-19 vaccine in the area was as a result long-time mobilisation in that respect.
She said the UNICEF sponsored programme was for children from zero to two years, as well as administration of COVID- 19 vaccines for adults who had not had their jabs .
She said the outreach was for victims of the 2022 flood disaster that ravaged seven LGAs in the state.
She said," Many of the children missed their routine immunization because they were displaced during the flood that submerged their houses and forced them to relocate.
"However, the UNICEF post- flood intervention programme for the affected areas provided the women the opportunity to catch up with the immunization of themselves and their children.
Chukwuneke said the Anambra State Primary Health Care Development Agency, ASPHDA, which is collaborating with UNICEF for the programme, engaged the services of public announcers to get to the hard-to-reach areas of Okpoko to persuade the women for the exercise.
Commending UNICEF for the gesture, she explained that the exercise would take place in the 16 wards in Ogbaru.
She added,"One of the challenges we have is that it is difficult to reach some of the places. There are areas in Okpoko that can only be accessed by foot, as even motorcycles cannot get there.
"But we must take the programme to those areas within the period of this outreach because we notice that many mothers have missed their children's routine immunization.
The health officer in charge of Okpoko Ward 2, Mrs. Clementina Obika said in addition to the immunization, the children would be given what she called "pluses" as a way of encouraging their mothers.
She observed that many mothers still did not follow immunization procedure religiously due to some reasons, including sickness of the children, adding however that those who missed theirs would still get all the doses accordingly.
Mrs Eberechukwu Obiajunwa, a mother of five, who brought her baby for the exercise, commended UNICEF for caring for women and children.