Entertainment
Anyone who's in PDP is not in any party today – APGA boss, Obi-Okoye
STAR INTERVIEW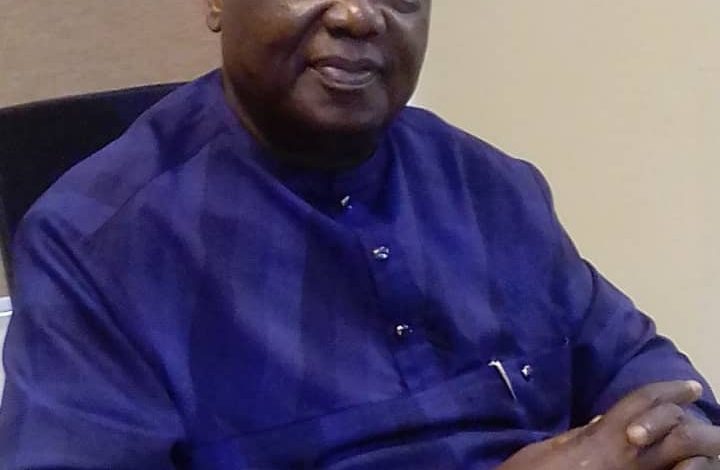 High Chief, Ifeatu Obi-Okoye, is a seasoned politician from Ogidi, Idemili North local government area of Anambra state. He was one time chairman of the Peoples Democratic Party in the state. Today, he's the state chairman of the All Progressives Grand Alliance APGA. In this interview with THE RAZOR Management team in his office in Awka, he talks about the crisis and intrigues in his party, what the Governor, Prof Chukwuma Soludo is doing, the governorship ambitions of Senator Ifeanyi Ubah and Prof. Obiora Okonkwo among others.
Excerpts…
You have been six months on this saddle as the chairman of APGA in Anambra State. How has it been?
Thanks for reminding me that I have been six months here. It has been an interesting period and also challenging. I will tell you why it has been challenging. We came in at a time the spirit of APGA members was quite low. We were battling with many things. We are just coming in when the result of the last election cannot be said to be the best for APGA in recent times. We never had it so low. We got only 16 seats in the House of Assembly, four in the House of Representatives, and we were also battling with intra party grievances arising from the primaries, which had its own negative effect. We found out that quite a number of our party members worked against us, arising from the poor conduct of the primaries. We also had challenges arising from the mindset of the party members, so we needed to work on the mindset of the party members, especially on not opening up to new members. There were challenges arising from disunity in the operational structure. So we started rebuilding, rebranding, repositioning the party to meet the vision that the new executive needed. It was not easy. We started by going around and visiting major stakeholders who had abandoned us or not showing interest any longer. Some of the problems were from primaries, so we needed to convince them that things would be done in a different way under my watch. So we brought back the confidence of the people.
There was also the grievances of old political appointees, of more than 3,000 consisting of all sorts of people. Some were not gainfully employed, some were friends to friends, girlfriends to politicians, some lived in London, US, Abuja and many places in the diaspora. But the current regime has a new vision for political appointees. The present regime under Governor Soludo believes it is better to teach people how to fish rather than giving them fish. The old political appointees felt they had been shortchanged. The promise was that they were going to be re-engaged, and all these were the crises we met and we needed to bring back their confidence and make them understand that the policy drive of Governor Soludo is better than what they used to have before.
We gave them examples that Soludo has employed 5,000 teachers and that counted for us electorally. The governor also started the one youth two skills programme. So they saw that this model is better. People got cheques for N250,000, N500,000 and more to go and start their own trade. So you see that it is better than earning salaries as the appointees used to and at the end of that regime, you are thrown back into the labour market.
So, that is part of the rebuilding process and people have begun to show interest in the things of the party. Again. We have also started inaugurating various structures in a new manner, and some of the things we have found out are that it is not just the party executives that you have to trust to deliver. We fashioned out a process where the grassroot people who are not the day to day party officials can function in the affairs of the party. We have situations where palliatives come, and parts of the problem we had in the past was that those who are the leaders keep these things, so beyond the executives, we have broken wards into kindred, and when we have things to share, we make sure that every kindred gets it. So these are some of the things we have been doing.
One good thing is that we have been able to bring back discipline. We lost it in the past, so when we came in, we decided to instill discipline, and this is from the top. I said something about the operational structure, yes. We also suffered that before, but now it is our policy that people who come up as support groups, some of them are not members of our party, but it is very important that they exist. So you must allow them to run their organisation and sustain their support. So, all together, we said we will rebrand the operational modus, so that we will have better harmony and strategy in the operations within the party and the support groups, with the full knowledge the party remains supreme. While we are working to achieve same goal, the party must sustain its supremacy. It has not been easy, it has not been what we are used to. Before, we had support groups that were stronger than the party and better funded than the party, but now we are working together as a family. I always tell them, you work as a support group, but we don't want urban guerillas, those who just dress up and come to Awka and show themselves as support groups but have no structures down to the ward level. So we have standards by which we can recognize you as a support group. If there is something we have been able to do within these period, it is the fact that we have been able to bring the party back to life, make it visible as one political family, working for one purpose and vision, under a respected leader.
Before now, APGA used to have as much as 25 seats, but in the last election, you had only 16 seats in the house of Assembly. What tells you that you will perform better in the next election?
I have confidence that we can do better. Truly, the last regime got up to 27 seats at a point, but this time around, we got 16 before the current speaker joined us. Part of why we lost some of those seats were the things I had identified before. The sham primaries we conducted. We had a lot of internal issues. Most of those who were aggrieved did not leave the party, they stayed within the party and worked against the party. That was how we lost. We had situations where our members were campaigning for the opposition party. We are happy that a lot of our members are back. Most members of PDP who were with me when I was the chairman there have come to us, and I can tell you that anyone who is still in PDP is not in any party today. Then the Labour Party some of them are with us. Most members of that party have understood that the emotions of the Labour movement do not seem like something that will last long. I can tell you that things can never be worse than it had been before. As far as we have credible primaries, the election in Anambra won't be a problem for APGA, and I can assure you on that.
Anambra is truly APGA and the people of Anambra still believe in APGA and we are getting more confident day by day, and the governor is working much more than we expected and sometimes we tend to forget that he is less than two years in office. His achievements are already competing with those of people who are four years. So his achievements will make the election very easy for us to win.
Two former governorship candidates in the last election have rated your governor very low. One is Obiora Okonkwo and the other is Ifeanyi Ubah. So what have you to say about this?
Let me start with my brother, Obiora Okonkwo. I am starting with him because I know him too well, and I know with every kindness to him that he needs to rebuild his political career. He ran for governorship and lost very woefully in my community. He had 103 votes and APGA got 1,188 votes. Those days we will say that he lost his deposit in Ogidi, his own community. Many people can say it happened because he ran under the wrong party, which was Zenith Labour Party, but what happened in the last presidential and National Assembly election is what will retire any serious politician. He was the D-G of PDP presidential candidate, and PDP did not win even one polling unit in Ogidi ward one and two, including his polling unit. After that, he disappeared and suddenly he is now castigating our governor. I don't take him seriously. He has a lot to repair and he has to come back home to repair the damage he has done to his political career.
Again, if he is thinking about governorship, it means he has learnt nothing from the old mistakes. Part of the old mistake was that governorship was zoned to the south, but he insisted on running, even though he is from the central zone. His party gave it to south senatorial zone and he left for Zenith Labour Party. We have a tradition of zoning, and it must be sustained. That tradition cannot be stopped because we have the likes of Obiora Okonkwo. He is a young man, he can be patient and his time will come. South will rule for eight years, before it comes to the central and that is when we will begin to listen to people like Obiora Okonkwo. For now, it is not the turn of Central, we are waiting for south to complete their tenure.
Back to the South where the likes of Ifeanyi Ubah is coming from. Still on the basis of zoning, it will be dishonest for him to say he is coming in to complete the four years of south before the rotation continues. We have a governor from the south already, and he is doing very well. For Anambra people, we will rather he completes his four years, so that the rotation is sustained without interruption. It would be a risk to give it to another person from the south, because he would want a second term. But again, the same Ubah you mentioned was at a town hall meeting in Abuja and he commended Soludo, saying that he is doing very well. He even said he would like to be Soludo's campaign manager. But then, I remember that by going into APC, Senator Ubah has gotten his debt cleared and his court cases removed. I appreciate the move, but it is a personal move and not for Anambra people. Beyond that, the coming race would be based on the performance of Soludo. In two years we are all really impressed. We have a lot to talk about those projects the governor is doing when the time comes. Dr Okonkwo does not see the 400 kilometres of roads the governor is doing in different parts of Anambra, he did not see the employment of 5,000 teachers and the second phase to add additional 3,000, he won't see free antenatal care for Anambra women, he won't see the free education. You don't just sit in your comfort in Abuja and criticize. Let him come home and reconcile with the people of Ogidi who have rejected him. He is a failed politician.
How does APGA rate the conduct of governorship election in the country by INEC, taking into cognizance the outcry in the last general elections, and even what just happened in Imo, Kogi and Bayelsa?
You see, they say even amongst thieves, there should be honour. We have come to a point in this country where amongst all of us, as political thieves, we should be tired of rigging, and there were expectations that reforms would bring about change. After a lot of delays in the 2022 electoral act which came so late, many of us didn't have the time to read it properly. But there were things we thought were in that electoral act. But those things we thought were in the electoral act were not there. There were also guidelines by INEC – As a lawyer, I get disappointed when certain interpretations are made. The law permits INEC to make certain guidelines. What is the legal effect of INEC guideline? An INEC guideline is in the state of a legislation of the National Assembly. So, when a guideline is made by INEC, pursuant to the electoral act, that subsidiary legislation by INEC is also law.
What were those guidelines? They told us the BVAS would work, results would be transmitted electronically, but at the end, the guideline still gave INEC the power to conduct the election in any manner, meaning that whether manual, sub-manual, electronically, whichever way they liked was just good. So, I don't think we have had any reforms, and that is very disappointing. Every politician is interested in reforms. The high turnout in the last elections were because we were all fooled that there was reform. So, we have gone back again to the old game. The results of Imo and Kogi recently shows we have gone back to the old game. I think it is a matter that calls for the conscience of the National Assembly. They are the only people that can save us from this situation. Some of these things require specific legislation. 2022 act did not make provisions that will guarantee free and fair election, especially in accreditation of voters. We can have problem in transmission because of poor power, mobile network, but for accreditation which does not require any transmission, we should be able to do that one. Results collated from whatever level are results emanating from polling unit, so if we get it right at the polling unit, we can take it from there.
Again, the Nigeria Police needs to see itself as a stakeholder in the process. In Imo state, the conduct of the police was simply poor. A deputy governorship candidate was shot, somewhere in Mbano, a police man was almost lynched for snatching ballot box. In Kogi State there was open shooting by people in uniform. So, we must all come together as stakeholders. The political class, government, security and all, there is need for us to accept that we must move forward as a nation. It is not about what has happened, but what is in the future. Otherwise, the country will crash one day.
By next year, electioneering for the governorship election would begin, and with the labour movement, and the Ifeanyi Ubah's defection to APC, Soludo may have difficulty in returning as governor. What do you think?
By Labour you mean Valentine Ozigbo is it not? Unfortunately, that name has become synonymous with losing elections. If he contests, he will be contesting against his homeboy from Aguata (Soludo). As for the 'Obidient' man (Peter Obi), APGA has beaten him twice. We beat him when he brought a man from Ogbaru, Oseloka Obaze, and we beat him again when he brought Val Ozigbo. What happened in the last Obidient Movement is a lesson to Igbo and should not repeat itself. It was like what happened in 1967, when we went into war with Nigeria without preparation. It is not likely to happen to Ndigbo again. There will be no Obidient movement in the governorship election because that movement was tied around an emotion to become president of Nigeria. It had nothing to do with Peter Obi as a person. At that point in time the Igbo felt it was their turn, rightly or wrongly. It has come and it has gone, and that factor can never come into play again in the next governorship election. Whether Governor Soludo will contest or not, we will not put him in the radar yet, until that time comes. We have also told him as a party to please concentrate on his good governance. His government is less than two years, and it is not a time to access anybody, but we are sure from his programmes that when it is time for campaign, towards the end of next year, most of what he has started would crystallize. When we begin to see the network of roads that would move from Amansea come through Okpuno, and a flyover, which would be coming before the election, when we see the dualisation from Amawbia down to Uga, with a flyover, which turns to Isuofia towards Nnobi, the people would know who to vote. Like my governor always says, just wait and see. See what is happening in Onitsha south and the number of roads coming up. We have sat down with him (Soludo) and asked him how he intends to achieve certain things and he has told us that by this time next year, nobody in APGA will have the confidence to come out and contest for the ticket against him.