News
Ekwunife in trouble as Communities chase her away from campaign grounds
News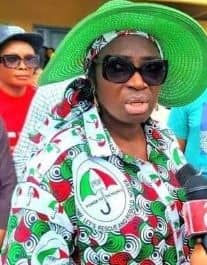 Our Reporter
The senatorial ambition of Senator Uche Ekwunife, has suffered setbacks, as some of the Communities in her Constituency are chasing her away from campaign grounds .
The communities are telling her they don't want her representation again, saying the person they want to represent them is Senator Victor Umeh.
Some of the communities are Akwu Ukwu in Idemili South and Nnokwa in Idemili North among others.
Ekwunife is contesting the Anambra Central senatorial election on the platform of the People's Democratic Party PDP, while Umeh is contesting on the platform of the Labour Party LP.
However, during some of her campaigns, the communities dismantled her campaign structures and drove her away from their places.
The Razor, was reliably informed that save for her security details, the angry constituents were ready to unleash their anger on her.
According to the source, "it has not been easy for Uche Ekwunife in her campaigns. The people of Anambra Central have truely rejected her.
"She ran for her dear life in some of the communities, including Akwu Ukwu and Nnokwa among others.
"Let me tell you the truth, our people are disenchanted with Ekwunife. She's not representing us well, they're only interested in their own well-being and that why our people have decided to vote for Victor Umeh (Ohamadike) on that election day .
"Again, they have continued to accuse Ekwunife as being selfish and arrogant. She has tried her best,she should go and rest and allow Umeh to go for us" the woman said