News
PVC: Anambra Catholic priest bars parishioners from Holy Communion
News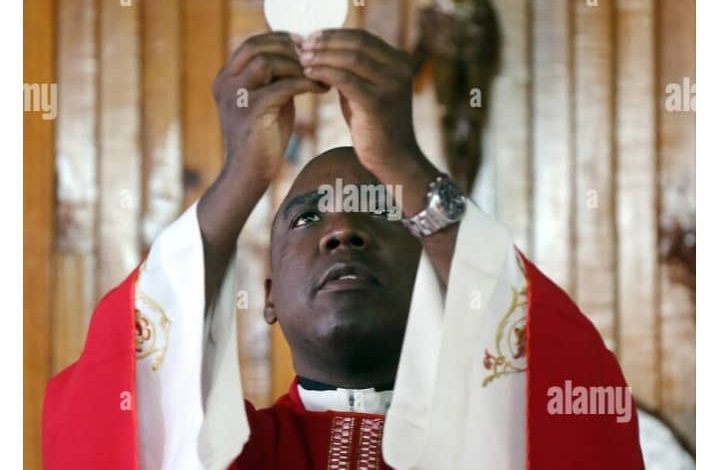 PVC: Anambra Catholic priest bars parishioners from Holy Communion
A Catholic priest has barred many worshipers in his parish from taking part in holy communion over their relunctance in collecting their Permanent Voters Cards (PVCs) ahead of the February 25presidential election.
The priest, simply identified as Rev. Fr. Okonkwo, in one of the Catholic dioceses in Anambra state, was said to have told his parishioners during an early morning mass that it is sinful for a citizen to neglect his civic obligation as stipulated by the law.
A member of the church who pleaded anonymity said the priest told those who were stopped from receiving Holy Communion not to see his move as punishment, but as a call to do the right thing.
He said, "The priest asked those who had not collected their own PVCs to come up to the alter. When they did, the priest told them that henceforth, they should stop receiving the Holy Communion until such a time when they must have collected their voters cards.
"The cleric further announced that any of them that go secretly to receive Holy Communion in his parish, or go somewhere else to do so without collecting his PVC has committed a mortal sin.
"The priest wondered why Christians, at a time when Nigeria is in dire need of good leadership, should not get themselves ready to elect good-fearing leaders.
Citing Mathew 22:21; the priest said that even Jesus Christ himself was mindful of the governing authorities, and his civic duties, and urged the congregation and Christians in general to imitate the life of Christ.
To further buttress his point on the need for citizens, and Christians in particular, to do the right thing, Fr. Okonkwo also cited Ezra 7:26; Roman 13:11; Titus 3:1, and 1Peter 2:13.
He said, "Nigeria is at the crossroads presently, and the world is looking unto Nigerians, and Christians in particular, to chose the best of leaders in 2023 to take the country out of its problems.
"Christians should be at the forefront. We should not be seen to be spectators. We must all go out to collect our voters cards, and exercise our civic obligations. Not just doing so; we should use the power of our PVCs to enthrone credible leadership.
Heaven helps those that help themselves. God will not come down from heaven to elect our leaders. No amount of prayers for good leadership will work for us, unless we select good leaders ourselves.
"The need to respect governing authorities is emphasized severally in the scripture. The need for Christians to perform their civic obligations is also emphasized severally in the scripture. Jesus led the way by paying His tax to Caesar. Therefore, Christians must follow Jesus' examples. Anyone that neglects his civic duty has committed sin."
He further asked the federal and state governments to consider declaring public holidays, and possibly shutting down markets for one day or two, to enable traders and government workers collect their PVCs ahead of the closing date.