Politics
Umeh shelves lawsuit against Soludo over dismantling of LP billboards
Politics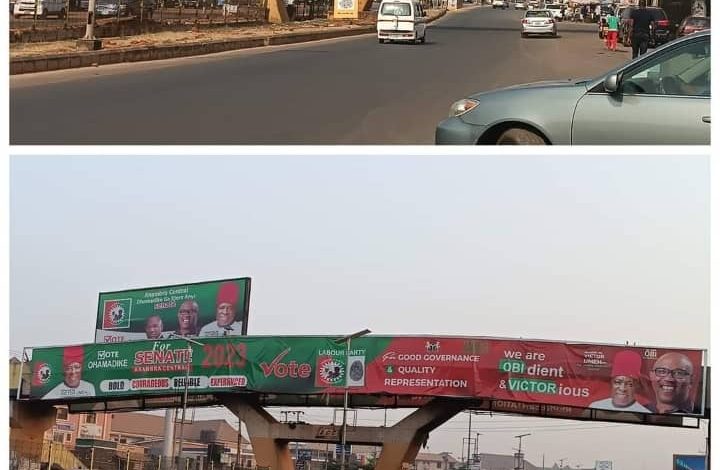 Tony Okafor, Awka
The candidate of the Labour Party( LP) for Anambra Central Senatorial District in the February 25 General Elections, Chief Umeh has shelved his legal threat to sue the Prof Chukwuma Soludo-led Anambra State Government for dismantling LP billboards across the state.
A massive billboard of the LP presidential candidate, Mr Peter Obi, located at the Nnamdi Azikiwe University Temporary Site Flyover was pulled down on Saturday alongside that of the party's candidate for the Anambra Central Senatorial District in the February elections, Chief Victor Umeh, and replaced on Sunday with a large flex banner, billboarded :"This is APGA land".
Alleging on Sunday that Soludo ordered the removal of the LP billboard at the Unizik Temp Site Flyover, Umeh who described the governor's action as breach of contract, unconscionable and undemocratic act threatened legal action against the state government if the billboard was not restored any time soon.
But addressing journalists at his campaign office in Awka, the Anambra State capital on Wednesday, Umeh said he had decided to shelve the lawsuit because it would be an unnecessary delay and distraction to the focus of winning in the February 25 polls.
He said," What he( Soludo) did with my campaign billboard because he doesn't want me to win is not good. That's taking the laws into his own hands so that with the power of eminent domain that government has, we will be in court for months ; and the elections are few weeks away; I resign to my fate, I have run to God for cover.
Asked to rate Soludo's close-to-one year in office, the former National Chairman of the All Progressives Grand Alliance ( APGA) said, "It's for the people of Anambra State to judge them. Based on the present state of things, anything I say now will be misconstrued. They will say he destroyed my billboard, that's why I'm speaking out of anger. You can go to the street and ask the people whether they are happy; whether the governor is meeting their expectations.
"Yes, I contributed immensely towards his emergence as governor, and I have no regret. That things turned the way they turned, it's part of history. You do your own out of conviction. When we were driving him to become the governor, there were stiff oppositions to that and I put myself forward in that bid for him to become governor. I was the collation agent for the governorship election.
" He requested me to do that for him, I obliged him. And on the 9th of November when we had a supplementary election in Ihiala,I faced the guns to defend his results so that they would not rig him out. And when the result was announced, I took the declaration of the result from the collation centre to his house in Isuofia. My job was done.
"What he is now doing with power is between him and God; it's not for me to judge him. But I remember when I endorsed him to run for governor on 2nd of May, 2021, before everybody, I told him to look after our people, that was my interest; look after our people,and ensure that you do not do anything that will be a setback to Ndigbo in Nigeria- that's my area; I want the well being of my people.
"That was the charge I gave him. I never asked for money: not one Kobo. My prayer is that he should abide by the rule of law and due process. What he did with my campaign billboards because he doesn't want me to win is not good