Human Interest
Flood Submerges Communities in Ayamelum, IDPs Receive Free Medicare, Relief Materials
Flood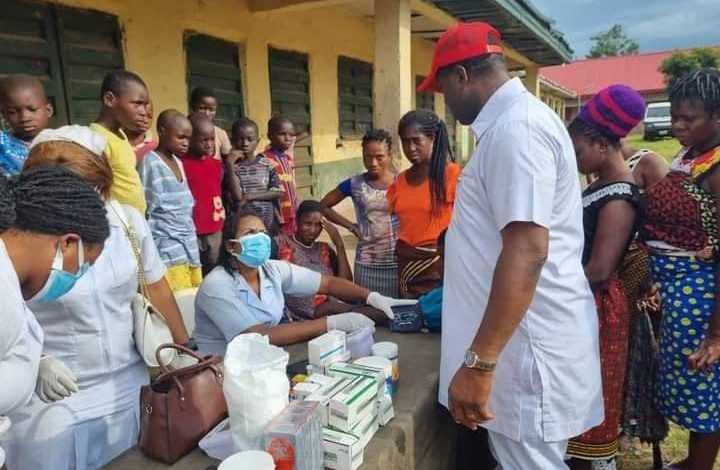 Several communities in Ayamelum Local government area of Anambra State have been submerged by flood water, displacing its indigenes from their residences.
THE RAZOR correspondent who visited the flooded communities observed that hundreds of displaced indigenes of Igbakwu community were camped in different primary schools, where they all depended on charity to survive.
Dr Amaechi Nwachukwu, the candidate of Zenith Labour Party(ZLP) for Oyi/Ayamelum Federal Constituency in the forthcoming election who visited the camp donated relief materials and also brought medical doctors to care for the displaced persons.
The IDPs received free medical checks and drugs from doctors attached to Dr Amaechi Nwachukwu Foundation.
Speaking during the visit, Nwachukwu said: "The devastating effect of the flood especially on the social and economical lives of members of this community is enormous.
"It is a moral responsibility upon me and every other well-to-do person to assist the victims of flood in Anambra State, considering the number of disease outbreaks that can emanate from the flood.
"Again is that, with domestic and farm products lost to the flood disaster, there is the tendency that after the flood, the people will commence life from scratch, so we need to help as much as we can."
He explained that the distribution of the relief materials to flood affected communities in the areas was to ameliorate the hardship that would arise from the incident.
Nwachukwu emphasized that the relief materials were only to cushion the effect of the devastating flood on the people, not a lasting solution to the challenges posed by the flood.
He called on well meaning Nigerians and indigenes of the state to support the people who lost their means of livelihood and property to the flood.
"The medical services we are rendering to the people today is to prevent or treat diseases that may arise as a result of the flood such as malaria, typhoid, hypertension and other ailments."
Some of the relief materials donated included; 10 bags of 50kg rice, bags of salt, 50 cartons of noodles, packs of toiletries, medicinal drugs, and cash donations.