Human Interest
Hoodlums attack Isuaniocha community, injure 48, destroy properties
Human interest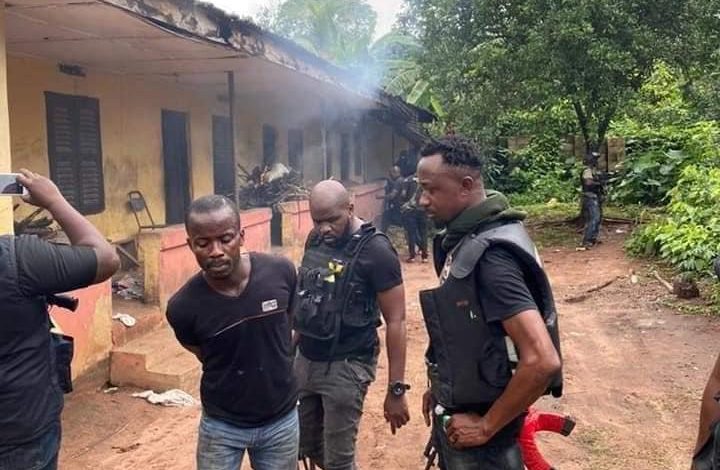 … Injure 48, destroy property worth millions of naira
… PG blames "bad elements" for attack
By Henry Duru
There was palpable tension in Isuaniocha community in Awka North local government area of Anambra state as some hoodlums armed with guns, machetes and other dangerous weapons attacked the community on Monday, August 9, 2021, injuring people and destroying property worth millions of naira.
Speaking on the development, President General of Isuaniocha, Ambassador Frank Oforbuikem Nkpume, blamed the crisis on the activities of people he described as "bad elements" in the community who were bent on fomenting trouble in the land for selfish purposes.
"There have been series of power tussles in Isuaniocha before I was elected on 24th of April 2019. I and my executive have done a lot to bring about peace in the community, but all our efforts have not yielded positive results because of some bad elements that have hijacked power in the community boasting that they determine who exercises power.
They are boasting that they have connections with the state government. Ever since they have vowed never to allow the community to have peace," said Ambassador Nkpume.
The PG stated that his leadership had since condoned all the provocative actions of the said "bad elements" just to avoid throwing the community into crisis.
These actions, according to him, included illegally collecting levies from developers in the community, selling lands of individuals, intimidating people and hijacking the work of the elders and market authorities.
Giving further insight into the crisis, Ambassador Nkpume noted that the whole trouble had started when one Donatus Okeke, who had been a caretaker chairman of Otoko (one of the eight villages that make up Isuaniocha) attempted to frustrate the effort of the village to choose a substantive chairman through an election. According to him, the people of Otoko had last December resolved to do away with the caretaker chairman and go for an elected leader, a decision that did not go down well with Okeke who was bent on remaining a caretaker chairman.
"Then they fixed their election to hold during the Easter period. During the period, Donatus Okeke went to Umuelem village and brought one Onyemazi Ngini (the caretaker chairman of Isuaniocha youths who has been there since 2016 and had problems with all the PGs Isuaniocha have had). This Onyemazi Ngini came to Otoko village with bad boys he had been training to insist that no election would be conducted. They caused a lot of problems there and left," the President General stated.
He noted, however, that following the intervention of security agencies and other authorities, the election was eventually held and was adjudged free and fair. Thereafter, the new chairman and his executive settled on their task.
Nkpume said that given the continued meddling in the affairs of Otoko by Ngini, the executive and elders-in-council of Otoko went to his house and begged him to stay clear of their village and allow them to run their affairs peacefully and successfully. However, events that followed showed that Ngini did not heed this plea, as he continued collecting levies and meddling in land disputes in a village he does not belong to.
Ambassador Nkpume noted that despite all the levies collected from the village by Onyemazi, it was the people of the village who still had to bear the cost of rebuilding the collapsed bridge at the major entrance to Otoko.
It is while they were on this project that "the former chairman came back day before yesterday (Saturday) with Onyemazi Ngini, Damian Nnaemene, and some touts and cultists, entered into Otoko with music, dancing that their Igwe is coming, that Donatus Okeke is now the Igwe of Isuaniocha. (That one is not my business because I know that it is documented in government that Isuaniocha has never conducted any election for Igwe. For now, we don't have an Igwe…) So the guy (Okeke) came back day before yesterday and started saying that he has arrived and that people must die, that he is going to kill anybody that stands on his way.
"Today I was in my house, I received a phone call that Onyemazi went to Otoko village, beat up some people, inflicting injuries on them using guns and machetes, then went to my guesthouse at Isuaniocha, destroyed all my property.
They even made away with my gas cookers, my televisions, they made away with a lot of things, destroyed everything."
The PG, who stated that he had reported the matter to the state Commissioner of Police as well as the National President of Anambra State Association of Town Unions (ASATU), Barr. Titus Akpudo, regretted that a total of 48 persons were injured in the attacks while nine buildings were destroyed.
While lamenting that his life was in danger, he informed that he was lucky to be rescued through the effort of some military personnel. He warned that should anything happen to him, Onemazi Ngini, Cosmas Okonkwo, Damina Nnaemene, Donatus Okeke and others would be held responsible.
THE RAZOR NEWS was unable to reach the accused persons for their side of the story as at the time of filing this report.