Column
How Soludo Used 'Charlie Nwangbafor' to win Anambra People's Love
Politics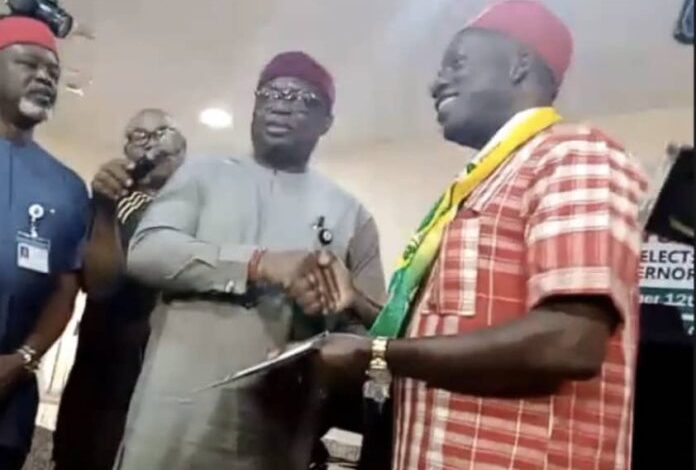 By Nna Ifeizu
That Prof. Chukwuma Soludo excelled in the corporate sector is not in doubt, but the professor of Econometrics learnt a bitter lesson in 2010 when he came freshly out of his former position as Governor of Central Bank of Nigeria (CBN) to contest the governorship of Anambra State.
A high flying professor of world repute, Soludo was more at home with very resplendent suits and ties, and to further cap his scholarly personae, he spoke English with a panache, and was seen more as an elite figure.
A journalist in Anambra State noted to THE RAZOR NEWS a certain incident that happened once in 2010, when Soludo first contested for the position of governor.
"The event happened at Emmaus House, and was a stakeholders meeting meant to address a lot of issues in the party then, because of the seeming disagreement that the candidacy of Soludo was generating then.
"The godfathers of PDP had settled for Tony Nwoye then, but Soludo used his influence as a key member of Goodluck Jonathan's cabinet to take the flag.
"During the Emmaus House meeting, immediately Soludo mounted the stage, he told the people at the gate to shut the door, insisting no one went out and no one came in, as he was about to speak.
"There were silent protest among some people. He also stopped the master of ceremony from hailing people, and you know an average Anambra man loves to be hailed by his numerous titles. Some big PDP members who came when Soludo had started talking were denied entry."
Some people said that one of the major reason Soludo could not make it in 2010 was because he was seen as elitist, and the opposition parties portrayed him to Anambra people as one who was a silver spoon kid, and out of touch with the realities on ground in Anambra then.
Drawing from such experience, one of the first thing Soludo did after enlisting in the 2021 governorship race was to  repackage and sell himself as one from a humble background, and a humble person too.
It was in that way that Soludo sold the idea of Charlie Nwangbafor to his media handlers, who used that to market him to the people. Soludo first told the story of his humble background, and how his parents were poor. He constantly reminded everyone that he was a village lad who lived rural life to the fullest. "I lived in the village like every other kid, went hunting, fetched firewood in forests, fetched water in streams. People knew me then as Charlie Nwangbafor. In the Igbo society then, children were identified more by their mothers because most men were polygamous, so if you wanted to know who a child was, you identified him through the mother and not the father."
The above analogy was all that his media handlers needed, and they went to town with it and marketed the great professor as a local man. This also helped the people in rural areas to connect with Soludo and see him as one in their class.
To further cap it, Prof Soludo evolved an entirely new personality. In the place of a resplendent suit and tie-wearing high-flying economist, Soludo came down to the level of wearing Ghana weave dresses, which is reputed to be among the cheapest dresses to wear.
While some other governorship candidates wore very resplendent white dresses that depicted them as 'untouchables', and not willing to be stained by the ordinary masses, Soludo connected with the people with cheap dresses.
Soludo wore same pattern of dress, though different colours to all his campaigns, live television interviews, meetings and others.
A political analyst, Mr Nzube Orji told THE RAZOR NEWS, "If you are looking for some of the small things that gave Soludo victory, you must look at things like who he was presented as, how he appeared before the people and what he told them.
"Even as an accomplished public speaker, do you know that anytime Soludo appeared in public to speak during the election, he only spoke in Igbo? He jettisoned his high-flying grammar. Any time he spoke English during the campaigns, know that he was doing so because of journalists who were relaying the event live."
Orji concluded that he was sure Soludo if he continued with the pace he had already set, would excel in governance.