Uncategorized
Hushpuppi: Abba Kyari's Presence in Oba Makes Obi Cubana a Suspect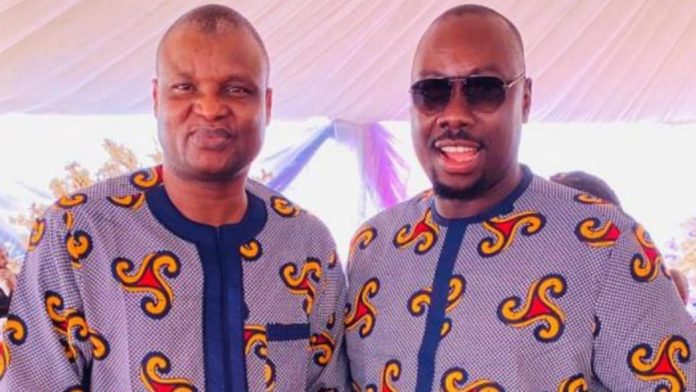 A Facebook user, Mr Fred Chukwuelobe has said that the presence of 'Super Cop', DCP Abba Kyari in Oba, Idemili South LGA for the  burial of Obi Cubana mother's burial has tainted the image of the showbiz and entertainment billionaire.
Chukwuelobe, a former Chief Press Secretary to Anambra State governor, Dr Chris Ngige made the post against the backdrop of the recent indictment of Kyari by US investigators, over his alleged involvement in a fraud deal by Ramoni Abbas, AKA Huspuppi.
Kyari was said to be an ally of Hushpuppi who is standing trial for fraud in US, and also helped the fraudster to arrest and intimidate his opponents.
Chukwuelobe in his post inferred that Kyari may have long standing friendship with young billionaires, whose source of wealth may be fraud, while also calling on those praising Obi Cubana for the lavish burial he hosted two weeks ago to stand by and see how dots may connect.
Below is Fred Chukwuelobe's full post on FB:
ABBA KYARI, THE SUPER COP, IS IN THE EYE OF THE STORM…
Suspected Internet fraudster, Ramon Abbas notoriously known as Hushpuppi, currently standing trial in Amercia for defrauding many and for his own show off in what I will always call obscene display of wealth, has named DCP Abba Kyari, as one of the people he had dealings with. Huspuppi has already pleaded guilty to the allegations may get a 20-year-jail term.
Expectedly, the top cop has responded and in his denial opened many loopholes. Journalists are digging in and unearthing many angles to the man criminals dreaded and society applauded.
As we await the true story, I want those hailing Obi Iyiegbu (Cubana) to stand by. This is just the beginning.
Abba Kyari's presence at the Cubana show at Oba recently where we saw another obscene display of wealth has tainted him badly.
I doubt if he's as clean as he claims.
Show me your friends and I'd tell you who you are.
The show is just starting.
Appetiser 1: Hushppupi alleges…
The United States Attorney's Office in the Central District of California says that Ramon Abbas, aka Hushpuppi, paid a Deputy Commissioner of Police in Nigeria, Abba Kyari, to arrest and jail an estranged 'co-conspirator,' Chibuzo Vincent.
This was contained in a statement released on Wednesday by the court titled, 'Six Indicted in International Scheme to Defraud Qatari School Founder and then Launder over $1 Million in Illicit Proceeds'.
Appetisers 2: Abba Kyari responds…
Friends: Abbas who we later came to know as Hushpuppi called our office about 2years ago that somebody in Nigeria Seriously threatened to kill his Family here in Nigeria and he sent the person's Phone number and pleaded we take action before the Person attacks his family.
We traced and arrested the Suspect and after investigations we discovered there wasn't an actual threat to anyone's life And they are long time friends who have money issues between them hence we released the Suspect on bail to go and he was not taken to any jail.
Nobody demanded for a kobo from Abbas Hushpuppi. Our focus was to Save people's lives that were purported to have been threatened.
Later, he saw some of my Native Clothes and Caps on my social media page and he said he likes them and he was connected to the person selling the clothes and he sent about N300k directly to the person's account. The Native Clothes and Caps (5 sets) were brought to our office and He sent somebody to Collect them in our office.
Nobody demanded any money from Abbas Hushpuppi and nobody collected any money from him. We responded to a distress call he made on threat to his family and released the Suspect when we discovered there was no life threat from the Suspect. This is the true story. Vincent is alive, he can be contacted.
For those who are celebrating that this is an indictment on us and mentioning some fictitious Big Money, They will be disappointed once again as our hands are clean and our record of Service for 2 decades is open for everybody to See. They will continue seeing us serving our father land and we will Continue responding to ALL distress Calls from ALL Nigerians provided they are life threatening.