News
Igbo Groups to Honour G5 Governors as Democracy Heroes
News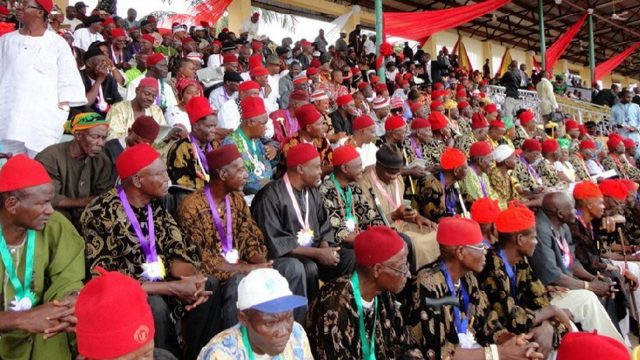 Tony Okafor, Awka
Scores of Igbo groups have concluded arrangements to honour five governors, known as the Peoples Democratic Party (PDP) G5 governors for their defence of democracy in the prevailing circumstances.
Governors in the G5 group led by the Rives State governor, Nyesom Wike, are Seyi Makinde of Oyo, Samuel Ortom of Benue, Okezie Ikpeazu of Abia, and Ifeanyi Ugwuanyi of Enugu.
A statement made available to our correspondent on Wednesday by the Chairman and secretary of the planning committee for the occasion, Goodluck Ibem and Kelechi Chigozori, said the honour would be bestowed on the governors at a Christmas retreat on December 20 in Abia State.
Describing the G-5 governors as heroes of democracy, the organising committee said, "We cherish their patriotism in positioning the Igbo and the South, politically."
The group's statement partly read," Various Igbo organizations namely Igbo Think Tank, Coalition of South East Youth Leaders, COSEYL, Nzuko Ndigbo, Ndinne Igbo and PANPIEC will gather in Abia State on 20 December, 2022 for Igbo International Christmas retreat where the G-5 Governors will be honoured for their selfless service towards the defense of our hard-earned democracy.
"The Christmas retreat is an annual event where Igbo culture and heritage is celebrated and also to chat our how Igbo political interest in the Nigerian polity is properly secure.
"The programme started in 2018 at Abagana Anambra State, in 2019 it was hosted in Uburu Ebonyi State, in 2021 Igbouzo Delta State hosted the event.
"After the last programme in Delta last year, Igbo leaders agreed and choose Abia State as the next state for the event.
"Igbo leaders choose Abia State because of the security and serene environment of Abia State which is made possible by Governor Okezie Ikpeazu.
"This year's Christmas Retreat came at a time when our nation is at crossroads when our people are on a dire need of a right direction and our G-5 Governors who are men of integrity have shown the right direction.
"We commend the dynamic efforts Governor Nyesom Wike of Rivers State, Governor Samuel Ortom of Benue State, Governor Okezie Ikpeazu of Abia State, Governor Ifeanyi Ugwuanyi of Enugu State and Governor Seyi Makinde of Oyo State who have made personal sacrifices for the betterment of the Southern part of the nation.
"We commend Governor Okezie Ikpeazu for providing a secured and serene environment in Abia which made Igbo leaders to choose of Abia as the state to host the gathering of Igbo leaders in Abia this year possible."