Health
Locals use Soludo treated mosquito nets for fishing, farming
Health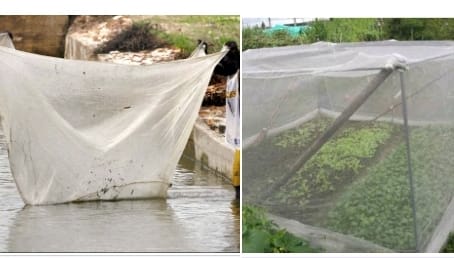 Our correspondent
Investigations by our Correspondent in some riverine areas of Anambra State reports that some locals in such areas have converted the treated mosquito nets distributed for free to citizens by the Prof Chukwuma Soludo-led Government of Anambra State for fishing and farming.
Soludo had flagged-off the distribution of N3.8 million insecticide treated nets in the state while the distribution was being carried out in collaboration with the Federal Ministry of Health and Malaria Consortium.
According to the governor, the programme was part of the state government's efforts to ensure healthy living.
He explained that the lifespan of the mosquito net was about three years, adding that the vaccination against malaria would soon be rolled out as part of the journey to zero malaria in Anambra State.
But finding by our correspondent showed that some people who had collected the free nets were rather using them for fishing, a situation that negatives the purpose.
As a consequence, Civil Society Organizations (CSO) have warned against such development.
Speaking while responding to inquiries at the Palace of His Royal Majesty Igwe Gibson Nwosu (Eze-Uzu Awka ||), Prince Chris Azor, Chairman, Anambra Civil Society Network (ACSONET), one of the groups involved in the process of distributing the Insecticide Treated Mosquito Nets, cautioned against using the nets for fishing, grains preservation or other domestic purposes.
The Citizens' advocate said each household would receive from 2 to 4 nets depending on their family size.
During a recent Media engagement, the Commissioner for Health, Dr. Afam Obidike, said it was necessary that Ndi-Anambra be well informed about the distribution exercise.
"This exercise is in collaboration with the National Malaria Elimination Programme (NMEP), Malaria Consortium and with support from GiveWell Open Philanthropic Funding.
"The Insecticide-Treated Nets will be distributed to every household with the objective of reducing the scourge of malaria in the State." he said.
"The 2022 Insecticide Treated Nets (ITNs) mass distribution, which will commence today August 7, is free for every household across the State"
"The objective of the ITN mass campaign is to ensure that for every 2 persons, there is one bed-net to sleep inside and the distribution will be done on door-to-door bases across all the 21 LGAs of the State" Mr Commissioner concluded.
The household registration and simultaneous distribution of net will commence from August 7 to August 17, as from 8:30am to 2pm on daily bases.
"Every household must ensure that they have someone at home within this period to collect their nets."
According to him, the newly collected nets must be aired under a shade for 24hrs before hanging and sleeping inside, old nets should be replaced with the new ones.
The Commissioner while appealing to the residents in the State to cooperate with those employed for the distribution, urged the Media and relevant stakeholders to help in enlightening the public on the need to sleep inside the nets in order to eliminate malaria in the State.