Social Circle
NDE trains 450 youths on enterprise, finance counseling
Empowerment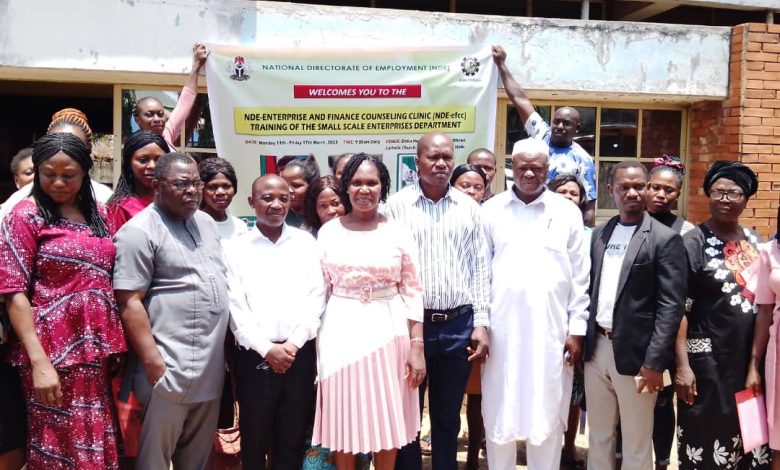 Our correspondent
National Directorate of Employment, NDE, has commenced the nationwide training of 450 unemployed graduates on enterprise and finance counseling organised under it's Small Scale Enterprises(SSE) Department.
The beneficiaries were drawn from the 18 states in the federation at the rate of 25 persons from each state.
Disclosing this yesterday at the opening ceremony of the training in Awka, Anambra state capital, the NDE Director General, Mallam Abubakar Nuhu Fikpo noted that the mission of the training was to provide opportunity for the business persons facing challenges to obtain solutions through experience sharing with other businessmen or through the counseling sessions with the established business persons that are part of the facilitators of the training.
Fikpo encouraged the enterprising youths to utilize the entrepreneurial and financial information provided by resource persons engaged for the training to create wealth and become self-reliant.
According to him, " The clinic will run for one week and would offer opportunities for self-assessment geared toward business idea cultivation.
" Apart from the counseling sessions you would undergo within this one week training, you would be taught on how to discover your potentials as an entrepreneur and how to establish your enterprise.
" Other topics to be taught include how to generate a viable business ideas, how to sustain and grow your business, how to avoid business failure, cash management, quality management and how to write a bankable feasibility study amongst others."
The DG also said the training was simultaneously holding in the 18 states which include Adamawa, Anambra, Bayelsa, Cross River, Delta, Edo, Gombe, Imo, Kebbi, Kogi, Kwara, Lagos, Ogun, Osun, Plateau, Sokoto and Taraba.
Also in her remarks, the NDE State Coordinator, Mrs. Chika Ufelle pointed out the difficult it has become for NDE in empowering, through resettling of the trained persons considering it's capital involvement.
" Therefore, the Directorate took the initiative to enter into collaboration with some credit granting institutions in order to expand the scope of it's resettlement activities to accommodate more skilled unemployed persons.
" However, it is our strong belief that after this training, all the participants would have acquired the necessary knowledge and skills that would enable them succeed in their various chosen enterprise, thereby help in growing the economy." Ufelle stated.
One of the trainees, Mr. Dominic Akpa thanked the NDE management for the opportunity given to them to undergo the training, promising that" we must put what we learnt into use and our lives will change for good."