News
Newly defected PDP lawmaker emerges Speaker in APGA- dominated Anambra Assembly
News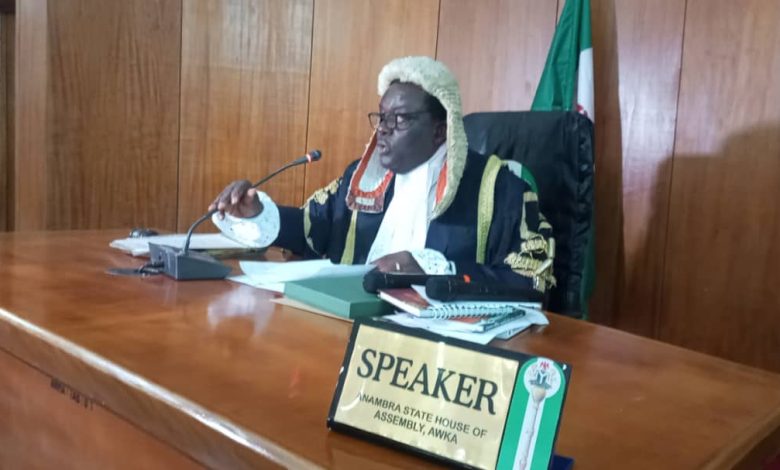 By Tony Okafor, Awka
The Member representing Ogbaru II constituency in the Anambra State House of Assembly, Somtochukwu Udeze has emerged the speaker of the assembly.
Udeze was elected on the platform of the Peoples Democratic Party (PDP) in the March,2023 elections, but he defected to the All Progressive Grand Alliance( APGA) a few days to the proclamation of the state's 8th assembly.
He emerged the speaker of the assembly on Monday after he was unanimously elected by 30 members of the Assembly at the State House of Assembly Complex in Awka, the Anambra State capital.
He was nominated for the position by the member representing Ekwusigo Constituency, Ikenna Ofodeme, and seconded by his Awka North counterpart, Chimezie Ikwunne.
At the same event, which the Anambra State Governor, Prof. Chukwuma Soludo, attended, the member representing the Awka South II Constituency, Chukwuma Okoye emerged the deputy speaker of the house, following a voice vote by the lawmakers.
The duo were sworn-in by the acting clerk of the House, Esther Aneto, who also decorated the new speaker to succeed the outgone Speaker, Uchenna Okafor.
Udeze is a third-term member of the State House of Assemble having been among the few members who won their re-election to the House in the 2023 polls.
He first became a member of the house on the platform of of APGA in 2015, but later decamped to the PDP under which he won his re-election to the house in 2019.
Speaking during the proclamation ceremony , Soludo said the legislature was a crucial partner in the quest for good governance.
He said, "I congratulate our newly inaugurated legislators. Irrespective of your different party affiliations, you have been employed by the people to ensure that Anambra blossoms.
"The executive, the legislature and the judiciary, must work in a collaboratively, coordinative and cooperative way to achieve project Anambra by making the state liveable and prosperous.
"If you all act fully in accordance with the oath of office and allegiance you have taken, I'm sure that Anambra will have the most productive legislature in the country.
"It is a new productive partnership and as the head of the executive arm of government, I am ready so that we can achieve our common goal which is a greater Anambra."