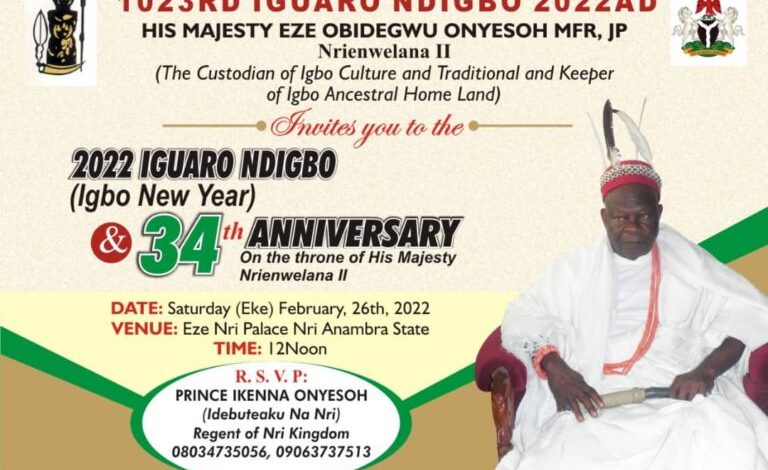 By Nwafor Okafor
Nri Community in Anaocha Local Government Area has celebrated its 1023rd Igu Aro Ndi Igbo cultural festival 2022.
The event which took place at the palace of Eze Tabansi Udene, who is safeguarding the Nri sacred artefact, attracted people from all walks of life.
Our Correspondent was there and reports that the "Igu Aro Igbo" or Igbo calendar, is a lunar calendar, which measures space and time using the phases of the moon.
The calendar, which shares semblance with what is obtainable in the Peoples Republic of China and Israel, is shorter than the conventional solar year which has three hundred and sixty-five days.
Unlike the Gregorian calendar, the Igbo calendar has thirteen months in a year, seven weeks in a month and four days representing Eke, Orie, Afor, and Nkwo, in addition to one extra day at the end of the year in the last month.
Performing the Igu Aro ritual, the Chairman of ADAMA Council, Chief Emma Enemuo, said that Nri, being the custodian of Igbo civilization used the event to declare the beginning of the planting season for Ndi Igbo and prayed for lasting peace and progress in Nri Community.
While performing traditional itu nzu and breaking of kolanut, the Okwudolu Eze Nri, Chief Maduka Muojuluaru and Chairman Orunzen'ino Nri Supreme Traditional Council, Ichie Mike Igidigi, thanked God for his blessings on Nri Ancient Kingdom and prayed for better days.
In their separate remarks, the chairman on the occasion, Chief Eugene Obi-Okoye and the President-General, Nri Progress Union, Chief Kelvin Obiegbunam and Chief Nnoli Nwako, appreciated the people of Nri in the diaspora and the Igu Aro committee for making this year's event a success, adding that the Igbo lunar calendar affords them, as a people, the opportunity of embracing their culture and heritage.
Highlights of the 2022 Igu Aro festival were launching of 2022 Igbo lunar calendar, distribution of yam seedlings, cultural displays among others.