News
Security Operatives Takeover Nimo, Stop Protest of Sales of Communal Land
Protest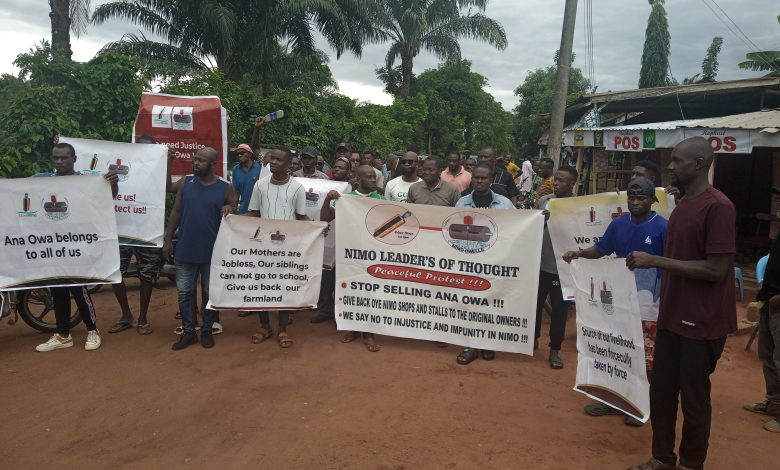 By Ifeizu Joe
Security operatives numbering about 100, and consisting of police, soldiers, civil defence and vigilante operatives on Tuesday morning took over Nimo community in Njikoka Local Government Area of Anambra State.
The operatives were in the community to stop a planned protest, in which youths had gathered to register their displeasure, over the activities of a few rich people in the community.
The sight of the fully armed security operatives, who were all looking combat ready with hooded faces sent fears into most members of the community.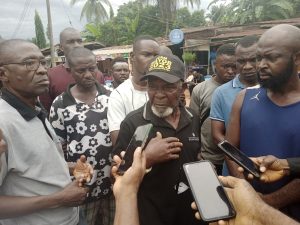 The operatives who accosted the youths at Oye Nimo stopped them from marching round the community with their placards, insisting that they did not get clearance from the police to hold any protest. The security operatives insisted the protest should be shelved for a later date.
The protesters who spoke to journalists insisted that they duly received clearance, and that the protest was against the sale of a large parcel of land in the community, known as Ana Ama.
Though they were stopped from undertaking the protest march, they however displayed placards with various inscriptions.
Some of the placards read: Ana Owa is not for sale, stop selling off our inheritance, you are supposed to be protecting us, not selling our property, among others.
Barr Chux Okonkwo, a Lagos based legal practitioner and former chairman of Nimo Town Development Union, Lagos branch who participated in the protest accused some powerful leaders in the community of being responsible for the sales of their inheritance, but did not name them.
He said: "A vast expanse of land, known as Ana Owa, which was gotten by conquest during a war, many decades ago is being sold off today by some people in this community.
"They said they have realised N900million from sales of the land, even though no one authorized them to sell it, and they now claim they have spent N1.2billion, which means we owe them about N300,000. They can not even account for what they did with the funds.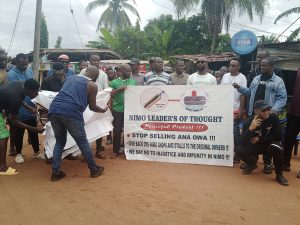 "That is why we want to protest, but you see the platoon of security men they brought to stop us. It is the same people that are selling off the land that are trying everything possible to stop us."
Leader of the protesting youths, Mr Chigbo Aniedobe told journalists that the elements in the community have changed the name of the land from Ana Owa to Obodo Oma Estate, and have put a price tag of N3.1million to a plot.
"We are not ready to fight anyone, we are not going to make trouble, but this protest is for government to hear our cry and come to our aid. At least, posterity will vindicate us that we spoke up when this was happening."