Entertainment
Spotlight Interview: Adeoye: Accidental Police Officer Tackling Crime in Anambra
Interview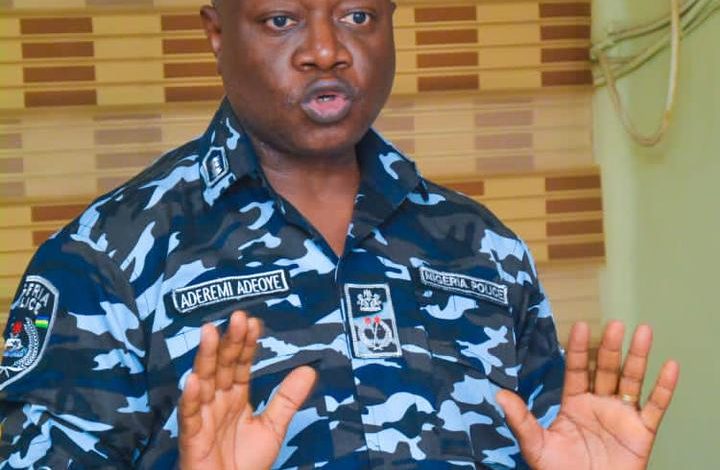 ~ Says, sponsors of insurgents in Anambra live abroad
~ Hoodlums even kidnap their relations
Anambra State Commissioner of Police, Aderemi Adeoye is one policeman who, it can be said, has seen it all. Despite the fact that his enlisting into the Police Force was accidental, he is enjoying his career. In this special interview with Editors of the THE RAZOR Newspaper, Adeoye reveals that most of the sponsors of insurgents, particularly in the South East geopolitical zone, reside abroad, from where they fund brutal killings and destruction in Igbo land.
However, he has assured the people that with what the police is doing with sister security agencies, they will not only be sleeping with their two eyes closed, but can even snore because they will be properly secured. He also dwelt on his journey in the Force so far, among other issues. Excerpts.
Welcome back to Anambra sir. You were here before and now you are back as the leader of the command. How does it feel?
First, this is not my second coming. This is my fourth. My first was in 1991 and I served for 10 years. I was patrol and guard officer in Fegge, Onitsha. I was operations officer from the OPS headquarters in Awka, I was officer in charge of Operation Kpochapu in Onitsha Joint Army Police Patrol, I was in State CID Awka for five years, I was District Officer, Oba Police Station, I was Divisional Crime Officer, Ojoto Division, I was Divisional Crime Officer, Central Police Station, Nnewi, and I was the pioneer Commander, Anambra Troopers for one year under the late governor Chinwoke Mbadinuju. That was my first coming.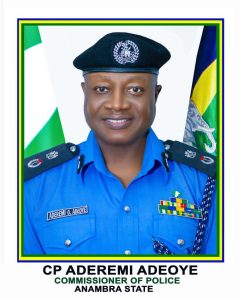 The second coming was when I was posted here in October 2021 with the former CP, Echeng Echeng. He was posted as command CP and I was posted as Deputy Commissioner of Police in charge of operations. And I served here for one year until I was promoted as Commissioner of police. Then I was posted out to Force CID, Alagbon Close as Commissioner of Power olice in charge of anti human trafficking in Lagos.
The third time I came was when I was posted here as CP election for the House of Assembly election earlier this year. I was CP election in Rivers for the presidential and CP election in Anambra State for the House of Assembly election in Anambra State.
My coming this time around as the Commissioner of Police, Anambra State command is the fourth time I will be deployed here. The difference between the other times and now is that I have had the privilege and opportunity to know the terrain, know the state, know the people and make friends. So by the time I was coming this last time, I already had a formidable network of friends, sources, associates and informants. Now that I am at the helm of affairs, I have the opportunity of seeing the overall architecture, security wise, and because of my previous comings, I have made a lot of friends and important sources who could give me credible intelligence I can take to the bank, plan strategy with and operate on and that has made my work easy and seamless. I also enjoy a lot of goodwill cultivated over the decades that I have been in Anambra and I'm putting into use all the contact and goodwill, to bring security dividends to the people.
We noticed that crime has reduced drastically in the state. Can you promise Anambra people that they will sleep with their two eyes closed?
Our promise is that you will not only sleep, but snore and your sleep will not be interrupted by gunshots. The security we enjoy now is not by accident or happenstance. It is a product of very serious collaboration between the people and the government and security. That is the tripod.
The people partnered with us on different strata and government is providing the resources and logistics and we, the security, do what we have been trained to do. We identify treats and deal with them, so that law abiding citizens can pursue their endeavours. When I say security, I mean all arms of security, both armed and unarmed. All are operating as the powers are assigned to them by the constitution.
I will give illustrations. The DSS provide us with intelligence, and we the lead agency for internal security act on them. For example, we got an intel about some particular persons procuring grenades to sell to insurgents, and this (Wednesday) morning we have arrested them. That is how effective our collaboration is. Also in the wake of the judgment of the PEPC, we collaborated with all security. We told the military, keep off the streets, let us not militarize the public space and send wrong signal. We told them to get their troop ready for any eventuality, while the regular police, including plain clothes men moved around to gauge the mood and ascertain what was coming. So nobody saw the army anywhere, but they were on standby to contain any trouble that might exceed the capacity of the civil police.
We deployed overnight to fortify the Correction Center facilities in Anambra because the first target is usually to liberate criminals and use them to foment trouble. Again, INEC offices are possible targets and they were fortified. And no one will burn down any INEC office and live to tell the story. I am not one to shy away from taking hard decisions, and I gave my men clear orders that anyone who attempts to burn any government structure, it must be prevented at all cost.
As long as the people remain law abiding and peaceful, we will protect them with our lives and anyone that wants to cause them harm will have us to contend with. But those who want to cross the boundary and become outlaws, we owe them no allegiance and we will use the instrumentality of the law to bring them down.
So the security being achieved in Anambra today is as a result of collaboration. For example, traffic may be the issue, for example a tanker falls across the road and motorists cannot pass, and traffic builds up and miscreants take advantage to disposes people of their valuables. So you see how traffic situation can lead to crime. So in cases like this, we need the road safety to use their heavy truck to remove the obstacle from the roads. It is in cases like this that you realize the critical importance of such agencies. No agency is to be underrated.
We have collaboration with Immigration, Prisons, and others. Apart from the work they do, they are significant in security. So all the agencies that have something to do on security have a role to play.
In ending sit- at- home, we didn't engage in rhetorics with those who are protagonists of the sit-at-home, and we did not mount any pressure on the people either. We didn't do anything special to bring the people out to go to work because that one is employer/employee relationship. What we did was simply to provide security and promise the people safety and their human rights. We owe the people a duty to protect them when they come out, but it is up to them to come out. We simply provided security and see that those who come out are not molested, so that when people look and see that someone went out on Monday and came back safely and made money, they too will begin to go out. And that is how people started going out. On Mondays now, Banks open in Awka today, businesses are open and that is a good development. So, gradually we will see full return to normalcy. By our own assessment, we are not there yet. We want to get to the stage where people will forget the bad experiences they have had in the past.
While we acknowledge that security has improved in the state, we also want to let you know that Nnewi to Ukpor, Iseke, Azia, Orsumoghu, Lilu, Ubuluisiuzor and other such places are no go areas. When will normalcy return in those places?
What we have in those areas you just mentioned, and what almost engulfed the whole state, is insurgency. You know this is like guerilla warfare and you must be deliberate and methodical because it is not a conventional war. You make progress slowly. You gain ground, you secure it. You reclaim occupied territory and you secure it and go further.
Those areas you mentioned are still no-go-areas for civilians, but not for security. As a matter of fact, we have Forward Operating Bases (FOB) in Osumoghu, Ukpor, Uli, aimed at ensuring we stem encroachment from Imo State. These measures have been effective and that is why the rest of the state has been safe, because the routes through which they come have been blocked. Our police special forces are there, army is there, police is there, anti terrorist unit is also there.
Before now, all the seven local government areas that are in Anambra South senatorial zone were under the control of the insurgents. By your own admission you have now accepted that other parts of the state are safe, except Nnewi South and few areas in Ihiala. So out of seven local governments, we have reclaimed five, and we are working on liberating the remaining two, and incidentally, those two have link with Imo State. It got so bad that even their traditional rulers fled their communities. We had instances where their palaces were also burnt.
This insurgency problem was not against non indigenes as people take it to be. It is actually self immolation. Custodians of the culture are being attacked. We are working to gradually reclaim all these areas that the insurgents have turned into their hideouts because of natural forests, harsh topography, difficult terrains and others. They take refuge in that place and launch attacks from there, but now it is very difficult for them to launch such attacks and come out alive. Attacks have been checked to a reasonable extent. I will give you an insight; they plant landmines around those camps and also use rocket propelled grenade launchers. These are war materials and we are not at war.
The Federal government has exercised a lot of restraint in dealing with the problem, and I will advise the insurgents not to push their luck so far because patience has a limit. You will agree with me that up till now we have not used air strikes, Why? Because we are concerned about the safety of the people there. We don't want collateral damage. But if their existence there will make life meaningless to the innocent people, then government would have been pushed to the wall to go all out and take them out, in order to secure the people who have become canon-folder in their hands. They even kidnap their own people and ask for ransom, and if you don't pay, they kill you there. They don't care. In fact, 95percent of their victims are their own relatives, while the other five percent are travelers, who due to lack of the knowledge of the area, run into them. Our advice is for people to use the expressway always.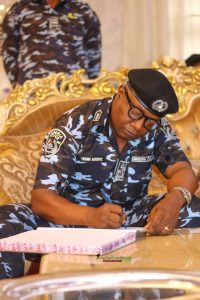 Do sponsors of these people live among us?
No. Most of them are abroad, but they are indigenes, who are misled and misguided about the true nature of the conflict, whose source of information is the propaganda they read on social media. And they continue to give them false perception that the realization of the Republic of Biafra is imminent, and all they need to do is to sustain the onslaught, and the onslaught comprises of firing three rounds at a military outpost and running away. That is not fighting, but that is what they need to deceive their sponsors abroad, to continue to get funding. It is business and nothing but business to them. That is propaganda, and the reality is that everyday they are losing ground. They increasingly continue to target their own people, and they are members of the society and we owe those people a duty of protection. They are in it only for their selfish interests, and that is what those people abroad want to hear, and they will be like our boys are doing it, and they contribute money and send to them, and these boys use a small part of the money to buy bullets, go to a small location and shoot, and video it and send to their sponsors.
We have also blocked the avenues of their arms supply, and by the time we have successfully blocked it, they will resort to catapult and soon if they attack anywhere, the people will catch them and beat sense into their head. So I can tell you that the problem will soon be over, and the people will enjoy complete peace again.
Let us know that development can only happen when there is peace. If you create insecurity, you are undoing your region, and once there is insecurity, no one thinks of development again. It is better for all hands to be on deck. It is our duty to create peace for development in this region, and my focus is Anambra State. Look at those erosion- prone roads around Ideani and Oba, if those roads are cut off, no contractor who knows that he is likely to be kidnapped will accept to go there to work? That is the problem. Lets put hands together and tackle this.
There is a recent rise in cult activities in Awka and we know you have said you will go for them soon. Have you started?
Let me start by saying that the claims of killings everyday is an exaggeration. From our data, in six weeks, we have seen four. What is happening is that this is a gang war by rival cults, and they target opponents. We are against it because of the fear it causes in the minds of investors and other law abiding citizen. Even in our laws, penalty for cultism is not death, so when they kill each other, to us it remains a horrendous crime and we have a duty to put an end to it. We made a press release saying we will clamp down on them soon, but by then the operations had already started. The purpose of that release was to make the public aware of what we were doing, so that they will not misinterpret our actions.
Over the weekend more than 55 suspects were arrested, including 14 who were rounded up during initiation in a forest. They were rounded up in that forest. They were to be initiated into one of the cults and the officers in the area arrested them, and recovered all the weapons. Among those recently arrested, 25 have been linked to crimes that are cult related and arraignment in court has already started, and those found not to be culpable have been released.
That is not the end. We are analyzing statements made by all those arrested and we are building credible evidence against their sponsors, and we do not want to catch anyone on the elbow and they wriggle out. For those sponsors, we want to catch them red handed with credible evidence that can stand scrutiny in the court of law, because once we descend on them, it is straight to court. We are trying to conclude our investigation first before we take action.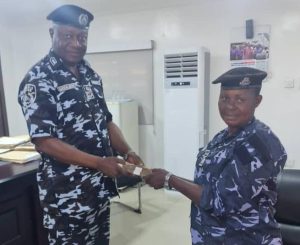 Internally, what are you doing to checkmate corruption?
I am fortunate to have studied Psychology at the masters level. I understand the situation very well. Corruption being an octopus hydra headed monster first requires that you understand the physiology and then adopt a multi pronged approach in tackling it, if you want your remedy to be sustainable. First, lack of sense of security by the policemen themselves. When they have a sense of insecure future and feel they will slave day in day out and end up with no one concerned about their well being, that is one trigger. Second, when you have a society with warped values where affluence and money is worshiped and society does not care how you made it, but only worship the fact that you have made it, then you see competition.
A captain of industry drives a vehicle that befits his office, and a school leaver wants to drive the same vehicle, without putting in such efforts. Then you see those who cut corners and become the model to many. Everyone is attracted by the lures of money, and that competition sucks in the policemen also. They too want to match up. That is another trigger. The stressful nature of the job is another trigger. The police man stands under the rain, without food, shelter and is idle. To kill boredom, he engages the motorist unnecessarily, and that engagement may not be meaningful if nothing comes out of it. That too is a trigger for corruption.
So, having understood the nature of the problem, we started with the orientation, to make them see their job as a vocation, a service to humanity that is noble and honourable. We show concern about the welfare and we go out of our way to provide good working condition, so that they can take pride in their environment and have the tools they need for their work. We are doing this in conjunction with both the state government and the force headquarters. The Inspector General of Police recently supported us with tons of the things we need in the stations. Diaries, stationeries, documents like search warrants and many others, and these are materials under which they will extort money to procure from parties in a case, but now you have them in large number, and you cannot even exhaust them in the next three years, so the grounds for such extortion have disappeared.
We created an avenue for people to complain, both on social media, telephone calls and my personal lines. We will continue to discipline our officers who err. When people reward you for work well done, you are not supposed to take it, but I will not punish you if you take it. We will continue to sanitize the system until we have something close to UN, or AU standard, where I worked for many years, where only your salary keeps you. There, you are paid well, but for the next 30 days, you won't see a dime from any source. I worked there, and I was paid fantastically well, but beyond that pay, nothing else, but I was contented.
I was Police Coordinator with African Union Commission. Sometimes I spend just 10 percent of my salary and send the others home to invest, and I did it for five years. That made me understand that if the pay is right, the craving for extra will disappear. However, note that the police sector cannot be treated in isolation. The police cannot be paid UN standard, while minimum wage is still what it is. It will be a dislocation. So the whole spectrum of public service must grow and develop together. But when we get to the juncture where take-home pay can take policemen home, it will be easy to identify the incorrigible elements and throw them out of the system. So, what we do is that we curtail excesses, but whoever goes out of the way to be stupid will face the music. This is because no matter the hardship you face, you cannot exploit others to ameliorate your own condition. Each complaint we get is treated decisively and promptly. If for doing a good work someone thanks you, we have no problem with that, but when you go out of your way to make demands and insist, before doing your job, then you are not fit to be in uniform. That is my stand.
I want you to inspire younger police officers with your story in the police force. How did you get to become a police officer? While growing up, did you know you were going to be one?
When I was growing up, I belonged to the aluta school of thought. That is struggle against the establishment. I attended Obafemi Awolowo University, which used to be the headquarters of Aluta in those glorious days. I joined the police because I came from a poor background and didn't have connection and was unable to get any job within the timeframe of a month after graduation. I joined police in 1989, and when I joined, the only alternative job I had was teaching, which I found to be honourable and dignifying and was ready to take, but the process would take six months. For record purposes, I taught during my service year in Niger state, I taught Integrated Science. During my service year, I was sending money home for feeding because for me to go through the university, was a struggle and my mother sold her valuable and sold the vehicles our father left, just to get me through education. I was the first to go through the University and the younger ones were queuing up behind me for me to finish and support them.
So, when I finished my service year, the only available job was teaching and they said the process would take six months. Buy a form, fill and submit, wait for interview, wait for announcement of result, documentation and them resume work. That was in Ogun Teaching State Service Commission. I didn't have the luxury of six months wait. Imagine someone who was sending money home during the NYSC, how will I now finish NYSC and start collecting money for photocopy, for transport and others from my mother. I thought it would impoverish the family further, so I resolved to take any job that came along. And for that reason, I joined the police force as a recruit constable.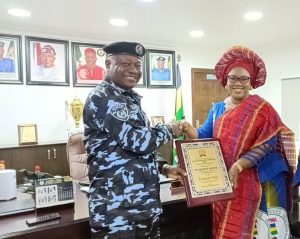 With your graduate certificate?
Yes. With my first degree, second class honours division, I used my WAEC to enlist as recruit constable. Then in the course of the training, I stood out. When we got to the training school, leadership was based on how many credits one had in school cert. And nobody knew I was a graduate as at that time, but I had nine credit in WAEC, and I was appointed as the leader of the squad; 120 man strong, and we were told that whoever becomes Number one depends on who comes first in the monthly examination, which determines progression to the next class.
They set exam every month and for the six months I came first every month and after that I became general number one and the leader of the entire college as far as all the recruits were concerned, which was over 700 in the six classes. It was easy for me to maintain that position because of my educational background. Before I passed out, the college authorities got to know from my writings, the way I answered questions and everything that I was a graduate, but it was too late for them to send me back because I had already been trained. So When I finished in the college I was posted to State CID. That was my first posting. Ordinarily you need to have served in the Force for three years before you can be posted to the State CID or to the Police Mobile Force, but I was given exemption because of my educational status.
The first case I was given to handle in the State CID earned me a promotion to the position of a corporal. So, while I was corporal, the force headquarters in Lagos asked the command to document all personnel who are graduates and below officer cadre, as some had acquired degrees after joining the force. We went for Interview and AIG Rachel Iyamagbo interviewed my set and I passed. There were two categories of pass. It is either you passed or you passed very well. If you passed and you're junior rank, you are promoted to Corporal sergeant and left on that rank. But if you passed very well, you are elevated to inspector first and then to ASP, in two signal, spaced one month interval. So, I was fortunate to have passed very well and was promoted to Inspector in a signal dated November 1990 and acting ASP in another signal in December 1990. So, I was a constable, I was a corporal, I was an inspector and I was an acting ASP. After that, I proceeded to Staff College Jos for officer training for three months, and we were interviewed, found worthy and commissioned. Two years later after passing confirmation exam I got the second star as an ASP. All these movement from constable to ASP happened between two years.
Apart from these career progressions, I have made professionalism and fear of God my watch words, and I consider that in dealing with everyone. Because of commitment to hard work and professionalism, I have always distinguished myself in anywhere I have been sent to. And that was why the Force developed the confidence in me, to task me with difficult assignments throughout my career. It is not just happening now, and I will give you a few illustrations.
In every major turn of Nigeria's history where we have national security challenges, I have been deployed. The first was the Niger Delta militancy. I was recalled from United Nations assignment in Liberia and deployed to the Niger Delta, to identify the source of weapons to militants in the creeks. And the first assignment I carried out in Port Harcourt, I had to infiltrate the militants, ate with them, clubbed with them and won their confidence, and I brought money and they brought the arms which they were to supply to militants in the creeks. In one operation, I recovered 56 military assault rifles and with that recovery, we busted the syndicate supplying arms to militants. Before then, it was thought that the militants used small boats to meet big vessels on the high sea to exchange weapons for crude. It was that operation that opened our eyes, because the weapons come in from Cameroon in trailers carrying stock fish, and each check point they got to, the smell of stockfish pervaded the air and they believed it was stockfish, but the floor bed of those trailers were all arms, and it was usually moved to Abala in Abia State. Arms trading was a thriving trade in that town, but when we unraveled this and stoped it, weapons stopped flowing into the Niger Delta, and they embraced amnesty and the rest is history.
I was five years in Niger Delta when Boko Haram started, and I was deployed to Maiduguri. I was there for two and half years as a sector commander with the military joint task force. I was the only police officer among the 10 sector commanders, others were military men. I was initially in charge of sector seven, which protected the police headquarters, DSS office, 17 churches and about 12 secondary schools, which were the targets of insurgents. Three times, there were car suicide bombing attempts on the police headquarters, but we foiled all three of them, relying on intelligence provided to us by DSS. My collaboration with DSS did not start today. I was a Chief Superintendent there. After that feat, I was removed from sector seven and put in sector six to protect the JTF Headquarters, Air Force base, international airport, artillery barracks and the gateway to Maiduguri. Throughout my tenure in that sector, no attack succeeded. I had 120 soldiers under my command and mobile police operatives, who I lead on patrols and operations. At the end of my stewardship, I was given a certificate of commendation, and I was the only sector commander who got the award.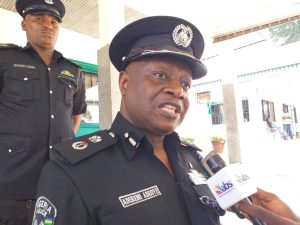 When the demand for me to be released to join Army special forces became strident, the then IGP, Abubakar pulled me out and posted me to Lagos because he did not want to lose me to the Army. He sent me to Lagos as PSO to the IGP, heading Lagos Office. I was there for two years before I moved to African Union Commission in Addis Ababa.
The third time when I was deployed in history was when the IPOB insurgency started, and police stations were being attacked daily across the South East. I was drafted to operation restore peace, and I was appointed as Deputy Commissioner of Police, coordinator for Police Mobile Force in the five South East states, and I had my headquarters in Enugu, and from there I was going out to all the states, coordinating operations, sharing intelligence and supervising deployment until we reduced the spate of the attacks. I was on the assignment for about a year, when the husband of Dora Akunyili was killed at Nkpor, along with three Police Inspectors in one day. So, the Force Headquarters removed the leadership of the command because of that incident and then brought Echeng Echeng as CP from Bayelsa and brought me from Enugu, to take charge of operations in Anambra. In the first few weeks that we got here, we were exchanging gunfire with insurgents on the streets, Nnobi, Afor Nkpor, Anaku, Oraifite in face to face shootout until we got the upper hand.
We found the morale of the men to be at abysmal level. I formed a command platform, which was created by the PPRO and I was added to the platform where we had all the DPOs, All the Area Commanders were there. And I started educating them. Don't sit down in your station and die, get up and fight. Defend your lives, defend your station, I told them. I began to give them strategies, how to deploy men, where to lay ambush, and the tide changed. That was when they attacked Oraifite station, and our men splattered their faces on the gutter, and they never repeated it. Gradually, we downgraded their capabilities.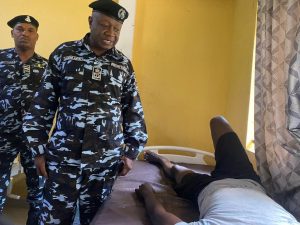 You will recollect that there was threat that the election that brought in the present governor of Anambra State would not hold. We didn't engage in rhetoric, we just went to work and encouraged the people to come out and assured them of security. When the protagonists saw that people will defy the order, they changed and said that the election can now hold.
One thing that the public did not know was that when we held the first election, there was no election at Ihiala, that was because the insurgents went round and threatened that any hotelier that accommodated people coming for election, they would burn the hotel. Any transporter who worked for INEC would be killed and their buses burnt. So even transporters who had already collected money from INEC failed to show up. So we changed our tactics and said, leave Ihiala, let us do election in other parts of the state, and when we are done, we can now face Ihiala. And that was what we did.
That of Ihiala was now scheduled on the following Tuesday, and we moved all the forces to Ihiala, and we used three helicopters for the Ihiala election, patrolling. And we deployed joint Army Police Special Forces to Orsumoghu to engage the insurgents in a shootout, from morning to evening, to ensure they did not come out. We engaged them and elections went on at Ihiala successfully.
That was how we did the election. When we had finished and elections concluded, we now gave signal to our men engaging the insurgents to withdraw.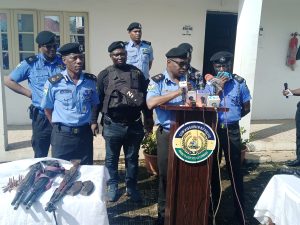 I think the insurgents later rose, but the leadership of the command before me did a lot, because after the election I had been deployed out, but when I returned as the leader of the command here, I already had something to stand on and strategize. And we have been able to keep them down till today.
So, that is the story of my service. But I must say that my service with the African Union was a time I cherished so much. It gave me the opportunity to see the world, and I was always on the air, traveling from one country to the other, speaking at conferences, and the pay was good.
In education, I will say that I believe in self development, and I will encourage young officers to develop themselves. It can make a difference in their lives and in their career. Self development is something they will find useful, even when they disengage from the service, because no one is going to take it away from them. Apart from my first degree at Ife, I did Masters in Legal, Criminal Psychology at the University of Ibadan. I have also studied FinTech in Harvard, I studied Venture Finance in Oxford, I have done Property Development in University of Cape Town, South Africa, I also did Supply Chain Management in University of Cape Town.
Flowing from the knowledge garnered from these courses, I established an investment club in 2018 and it is still thriving till now, with a membership of 1,400 Nigerians at home and abroad.