News
Tinubu eyes Anambra man, 12 others for IGP appointment
News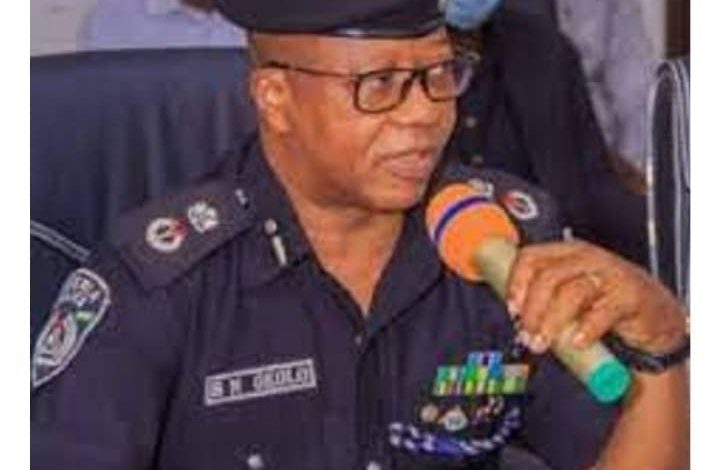 Tinubu eyes Anambra man, 12 others
for IGP appointment
An Assistant Inspector General of Police, AIG Benjamin Nebolisa Okolo, is amongst the senior police officers being considered to be appointed by President Ahmed Bola Tinubu as next Inspection General of Police as a matter of qualification and rank.
Okolo, a native of Onitsha, Anambra State, it was gathered was born on December 24, 1965.
He enlisted in the police force on May 18, 1992, while his possible date of retirement is December 24,2025
Okolo holds B.Sc degree in Political Science while his current posting is : AIG Zone 16 Yenogoa
Our correspondent obtained a document listing the seven DIGs and 33 AIGs currently serving in the Nigeria Police Force, and who are in line to succeed Usman Baba as the Inspector General of Police.
.
A source said only "Analysis of the profiles of the 40 officers showed that a total of 14 senior officers: 11 AIGs and three (3) DIGs are scheduled for retirement in 2023.
"By 2024, a total of 13 senior officers: 11 AIGs and two (2) DIGs will also retire from the police force.
"Tinubu, is left with the available options of 11 AIGs and two (2) DIGs on the roll to appoint the next IGP.
Below Are Profiles of The 13 Officers 'Qualified' To Be Appointed IGP:
Name: DIG Moses Anbakina Jitoboh
Origin: Sagbama, Bayelsa State
DOB: June 1, 1970 (53 years)
Date Enlisted: June 10, 1994
Retirement Year: June 10, 2029
Discipline: M.Sc Geog/R. Planning
Current Posting: NIGPOL ICT FHQ Abuja
Name: DIG Adeleke Adeyinka Bode
Origin: Ekiti, Kwara State
DOB: May 13, 1965 (58 years)
Date Enlisted: March 3, 1990
Retirement Year: March 3, 2025
Discipline: LL. B
Current Posting: NIGPOL DOPS FHQ Abuja
Name: AIG Dansuki Danbappa Galadanchi
Origin: Gwale, Kano State
DOB: January 10, 1966 (57 years)
Date Enlisted: March 3, 1990
Retirement Year: March 3, 2025
Discipline: B.A Language Art
Current Posting: AIG INTERPOL FCID FHQ, Abuja
Name: AIG Bala Ciroma
Origin: Potikum, Yobe State
DOB: January 16, 1966 (57 years)
Date Enlisted: March 3, 1990
Retirement Year: March 3, 2025
Discipline: B.S.C Geography
Current Posting: AIG FEDOPS FHQ Abuja
Name: AIG Sahabo Abubakar Yahaya
Origin: Hong, Adamawa State
DOB: September 15, 1965 (58 years)
Date Enlisted: May 18, 1992
Retirement Year: September 15, 2025
Discipline: BL
Current Posting: AIG Zone 15 Maiduguri
Name: AIG Lafia Shuaya'U Abduyari
Origin: Lafia, Nasarawa State
DOB: January 1, 1965 (58 years)
Date Enlisted: May 18, 1992
Retirement Year: January 1, 2025
Discipline: BA Theatre Arts
Current Posting: AIG FIB FHQ Abuja
Name: AIG Matthew Akinyosola
Origin: Ife North, Osun State
DOB: January 6, 1969 (54 years)
Date Enlisted: January 1, 1990
Retirement Year: January 1, 2025
Discipline: B.S.C Economics
Current Posting: AIG SPU FHQ Abuja
Name: AIG Jonathan Towuru
Origin: Ughelli, Delta State
DOB: December 6, 1965 (58 years)
Date Enlisted: January 3, 1990
Retirement Year: January 3, 2025
Discipline: BA History
Current Posting: SIG Zone 6 Calabar
Name: AIG Ari Muhammed Ali
Origin: Doma, Nasarawa State
DOB: March 1, 1965 (58 years)
Date Enlisted: March 3, 1990
Retirement Year: March 1, 2025
Discipline: B.Sc M.Sc Library Science, INDU
Current Posting: AIG Zone 2 Lagos
Name: AIG Benjamin Nebolisa Okolo
Origin: Onitsha, Anambra State
DOB: December 24, 1965 (58 years)
Date Enlisted: May 18, 1992
Retirement Year: December 24, 2025
Discipline: B.Sc. Political Science
Current Posting: AIG Zone 16 Yenogoa
Name: AIG Arungwa Awazue Udo
Origin: Ikwuano, Abia State
DOB: April 17, 1965 (58 years)
Date Enlisted: March 3, 1990
Retirement Year: March 3, 2025
Discipline: BA Philosophy
Current Posting: AIG Zone 5 Benin
Name: AIG Sadiq Idris Abubakar
Origin: Garko, Kano State
DOB: November 20, 1968 (55 years)
Date Enlisted: May 18, 1992
Retirement Year: November 20, 2026
Discipline: B.Sc Geography
Current Posting: CMDT Police Academy, Wudil Kano
Name: AIG Emeka Frank Mba
Origin: Udenu, Enugu State
DOB: October 9, 1972 (51 years)
Date Enlisted: June 18, 1992
Retirement Year: June 18, 2027
Discipline: BL
Current Posting: AIG FCID FHQ Annex Lagos