News
Tony Nwoye mourns Prof Ben Nwabueze
News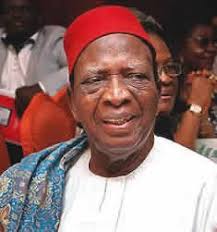 From :Our Abuja correspondent
The Senator representing Anambra North Senatorial District, Dr. Tony Nwoye has expressed grief on the passage of former Minister of Education and Youth Development, as well as the Pioneer Secretary-General of Ohaneze Ndigbo, Prof. Ben Nwabueze, SAN
In his condolence message, Dr. Tony Nwoye described Prof Ben Nwabueze as a legal icon, who made indelible footprint within and outside the country with his scholarly works in the legal profession, affirming that the legal luminary used his rich experience and knowledge in serving the country and humanity.
"Prof. Ben Nwabueze lived an extraordinary life that was self-evident. The knowlege and experience driven leadership and counsel he provided always with unfailing courteousness were the unique virtues that underpinned his extraordinary achievements as a legal luminary, educationist and bridge builder which will be talked about for generations", Dr Tony Nwoye remarked.
"It is a great loss both to Nigeria and the Igbo nation. He was a very decent constitutional lawyer and minister par excellence. He was known for being vocal and ensuring an anti-corrupt system. You cannot talk about the evolution of the entire legal system in Nigeria without mentioning his invaluable contributions."
While consoling his family, friends and the good people of Ogbaru Local Government Area, Anambra State – where Professor Ben Nwabueze hail from, the Distinguished Senator prays that the almighty God will grant the departed eternal rest, and comfort all who mourn him.