Politics
Umeh, Ekwunife to battle for Anambra Central zone in 2023 election
Politics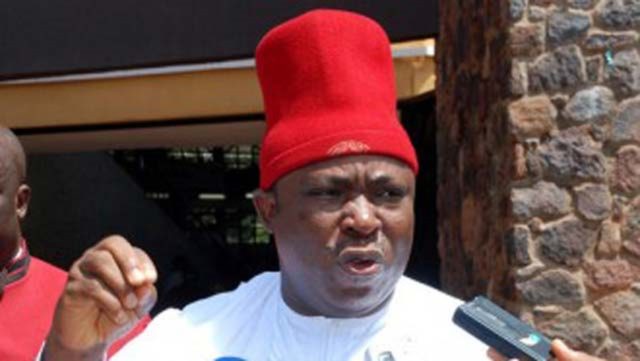 Former national chairman of All Progressives Grand Alliance, APGA, Senator Victor Umeh and the incumbent senator representing Anambra Central zone, Senator Uche Ekwunife will in 2023 lock horns in a Senatorial contest.
The election would the the third time Umeh and Ekwunife would be challenging each other in an election.
The indication that Umeh would contest the election emerged yesterday, when some groups within the All Progressives Grand Alliance (APGA), and in Anambra State called on Umeh to contest for a seat in the Senate.
Meanwhile, Ekwunife has also indicated that he would contest next year's election.
Her media aide, Kingsley Ubani who was reacting to calls on Umeh to run said Ekwunife would also run too, and the election would be the third time both heavy weight politicians would be meeting in a contest.
Meanwhile, groups calling on Umeh to run include; Anambra Progressive Youth Initiatives (APYI), APGA Promoters Assembly (APA), Movement For Good Governance and Conscience (MGGC),  Igbo Political Voice (IPV), Anambra Students Union Government's (SUGs) Forum.
Leaders of the groups in a press release made available to THE RAZOR NEWS in Awka stated that Umeh was one strong voice in the Senate, within the 17 months he was in the Senate in 2018.
Leaders of the groups included; Chief Ben Obi, Barr. Asha Nnabuife, Hon. Dr. Ikechukwu Oforkansi, Hon. Dr. Simeon Too Obiadi, Hon Comr. Egbebike Uche, Dr. Ernest Ikeanazor, Hon. Chief Chika Ibeneme, and Nchekwube Tony Dunga.
The press release read; "This is a clarion call on our people that in the next election, we must resolve to vote people with determination, dedication and commitment to develop Nigeria.
"First it was IPAC (Inter-Party Advisory Council) that called on him to run, then Anambra Central stakeholders have resolved force him to run, and we are also joining the call."
The groups said they are convinced that Umeh was taking not of the calls, and would respond at the appropriate time.
The group said the c would climax Thursday, 27th January, when all the groups would meet in Awka to endorse senator Umeh, and formally apologize to him to consider running for a seat in the 10th Senate.
"This call will be based on his quality performance within the 17 months of his stay at the 8th Senate.
"The event will be chaired by Chief Kenneth Nwachukwu, we are calling on all to come let's return the Voice Ndigbo Deserve at The Senate."