Politics
Umeh to electorate : Obi will end hardship, insecurity in Nigeria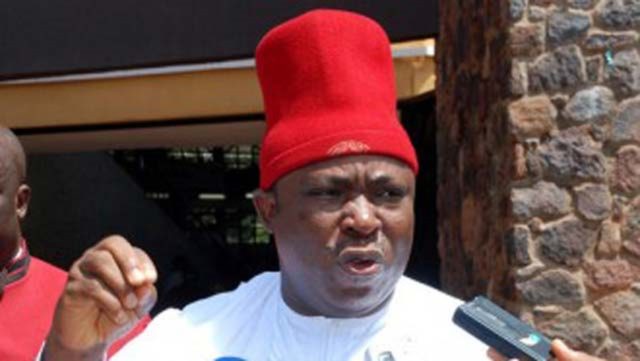 By Esindu Jacobs
The former National Chairman of the All Progressive Grand Alliance (APGA), Senator Victor Umeh, says, the insecurity and untold hardship ravaging Nigeria will come to an end with Peter Obi as the President.
Umeh, who is the Anambra Central senatorial candidate on the platform of Labour Party LP in 2023,appealed to the electorate to to keep hope alive.
He said Thursday that Obi's position as President had been destined by God irrespective of Tribe, Ethnic or Religious affiliation.
The LP candidate, spoke while addressing Labour Party LP leaders from the 109 political Wards that constitute Anambra Central, as Nigeria marks her 62nd anniversary.
He called on Nigerians to maintain peace, hope, unity and faith in building the country .
According Umeh:"at this time in the history of our great country, there is a general consensus that the nation is not in a good shape at the moment.
"After 62 years of Independence, we ought to have been able to organise ourselves for the betterment of the country, but we are in confusion.
" Things are very dificult for Nigerians. Things have got worse than there was in the begining.
"The 2023 general election is the right time Nigeria people have the chance to choose leaders by themselves.
" They should vote for a good President in 2023 Presidential election. And I am free to say that Mr. Peter Obi and his running mate, Mr. Yusuf Datti Ahmed, remain the best pair to address all the untold challenges facing Nigerians at the moment.
"The Obi-Datti ticket, will provide Nigerians a visionary leadership platform that will correct the ills of bad leadership we have had in the past 62 years.
"Some leaders have tried and some failed. We do not need to gamble in 2023 election. We need to put the right people on seat of power.
"Let us put Peter Obi on the seat as the next President and all Labour Party candidates as the party of the masses, party of the Nigeria workers.
"So, what will solve Nigeria problems is for the electorate to choose the correct President in 2023 Presidential election. And Mr. Peter Obi is the right man for the job", Umeh said