Entertainment
News
Steve Crown, Other Renowned Gospel Musicians to Perform at 2022 Unusual Praise Night 
Entertainment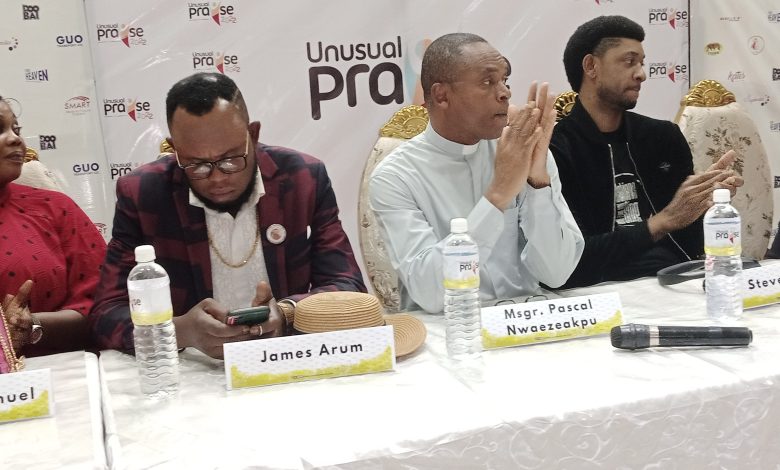 About 20 gospel artistes including Steve Crown will today (Friday) perform in Onitsha, Anambra commercial city during this year's Catholic Concert in Africa, tagged Unusual Praise 2022.
The program with the theme, "Let Everything That Has Breath Praise The Lord", pioneered by Catholic Church of Divine Mercy, Lekki, Lagos, would hold at the Cathedral Basilica of the Most Holy Trinity.
Addressing newsmen in Onitsha ahead of the event, popular gospel artist, James Arum urged Nigerians to complain less about the prevailing economic hardship in the country, but learn to worship God in all circumstances.
He said a heart of gratitude to God for his manifold blessings upon the country would propel him to salvage the masses from the impending doom.
He recalled how the COVID-19 pandemic that ravaged the world gradually disappeared from Nigeria, attributing the miracle to the unsual praise edition of that year.
He said, "What we're doing is spiritual. Remember two years ago when we gave God unusual praise, you'll bear me witness that immediately we we're done with the program, the COVID-19 pandemic seized.
"This time around, everyone is complaining of economic crisis. Paul and Silas did not only pray, but they praised God, and they were set free.
"I don't know what you're passing through. Rather than complaining and blaming anyone, why not give God unusual praise and see how he'll turn around our present economic situation."
Speaking on the event, one of the organizers, Mrs Augustine Igbokwe revealed that the event would be providing funding, business training and mentorship for entrepreneurs through its Unusual Entrepreneurship Program.
She said no fewer than 400 persons have been empowered through the project, adding that over 14 gospel artists would be featuring at the event.
"When Jesus was here on earth, he fed the multitude spiritually and also physically with bread and fish. That's why we're extending the project to empower people," she said.
Some of the artists who are already on ground for today's all night event include: Steve Crown, James Arum, Chioma Jesus, Jude Nnam, Ada Jesus, Joe Vibe, Nkwa group, Chuma Dimaku and Chike Oruche.