Human Interest
Water scarcity: Story of hardship in Umunze
Human interest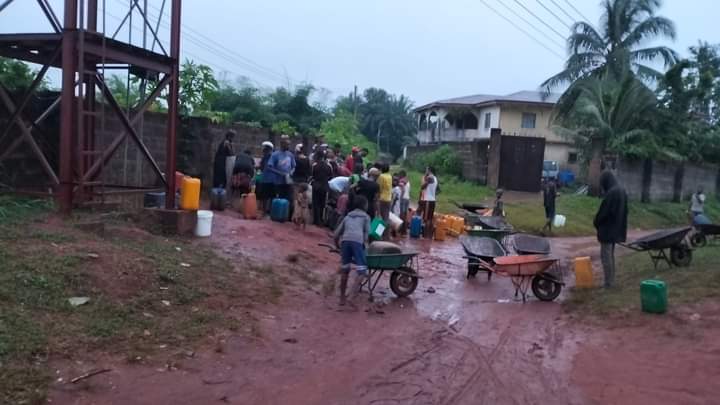 By Sam Otti
I took this picture this morning.
This is a village in Umunze in Orumba South LGA, Anambra State. As early as 5.30am, men, women and children rushed to a solar-powered water borehole built by a son of the Community for his people. The struggle for this 'liquid gold' is not for the weak.
From a long distance, children push wheelbarrow with gallons of water before they prepare for school. The sight of elderly women dragging buckets and gallons of water along the road makes one wonder why basic needs in Nigeria have become diamonds in the sky.
Few individuals that have water boreholes in their compounds couldn't pump water because electricity supply ceased for the past two weeks in the area.
When Nigerian Senators take delivery of N160million luxury jeep to add to their fleet of cars, they become the gods of our land. They become idols of worship by people pining in misery. Our politicians ascend to the highest heaven of affluence, while the citizens they represent descend to the endless pit of hell, choked by severe deprivation.
True leadership is not about feathering the nests of politicians, but making life better for the citizens. Leadership is not about posh cars and cozy mansions, but service to the people. Citizens do not ask for gold. Rather, they demand water, good roads, improved health system, security of their lives and property, job opportunities and nothing more.
This is the Nigerian story.