News
World Menstrual Day: Group Sensitizes, Empowers 500 Students
News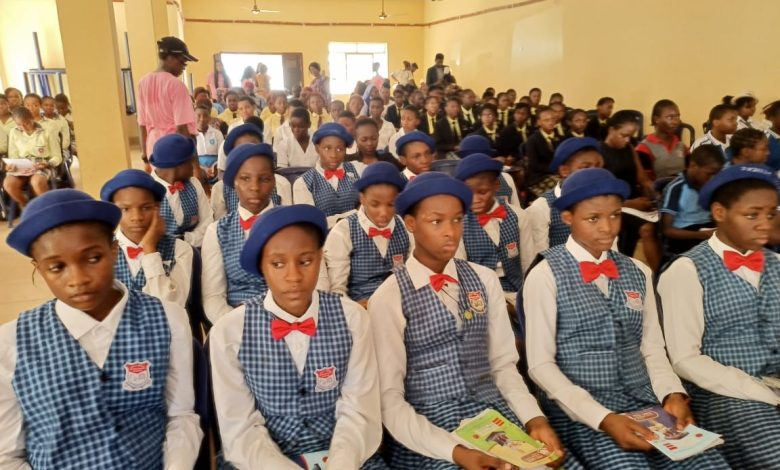 By Ukpa Ewa
A Non-Governmental Organization (NGO), Zobam Charity Foundation has organized a one day symposium to sensitize students on importance of good menstrual hygiene to restore the Girl Child Confidence.
Speaking at the event in Awka, the Deputy Vice Chancellor (Academic) St. Paul University Prof. Chinyere Stella Okunna who expressed delight in celebrating the occasion with the students, said Nigeria was a patriarchy society which places more dignity on men and do not appreciate women enough.
She said young women must have plenty of self confidence while countering unjust social norms, cultural taboos and myths that mislead menstruating girls thereby causing serious health issues.
"In rural areas, many believe menstruation was a taboo, something unclean and something to be ashame of which many has grown up with the idea they feel embarrassed"
"Menstruation shows you are developing appropriately as a young woman and should be happy cause you are on the right part to adulthood"
Also, the Managing Director Anambra State Oxygen Plant Amaku, Hon. Nwamaka Arinze in her inspirational message said government was beginning to create safe space for young girls even though they had not gotten to the maximum stage of making the environment safe for them but with the laws in place, people need to access them and seek help from appropriate authority when necessary.
She charged Girls to believe in themselves as it was their responsibility to build their self confidence noting they were unique in their own way.
Delivering her lecture " A global Perspective on Menstrual Hygiene Management As it Affects the Environment and Public Health Concern" Dr. Nkiru Ezeama Consultant Public Health Physician said menstruation was a normal biological process and many girls have their confidence eroded for the mere facts they menstruate.
According to her, menstruation was the monthly expulsion of blood and cellular fragments from the uterus that starts at puberty, a normal part of life and should not be stigmatized.
Many girls were shamed especially when they were in their period which most times causes mental stress and could actually lead to anxiety and depression.
Speaking further, Dr. Ezeama maintained that Approximately 1.2 billion women across the world do not have sufficient access to menstrual hygiene products as they were period poor.
Several were deprived of facilities where they could treat menstrual pain, change their pad and access to dispose pads in good facilities as one in 10 girls in Africa miss school because of their period.
"Most girls were period poor as many could not afford menstrual product. Up to 44% of Nigerians were experiencing period poverty as many could not afford five hundred naira pad thereby making them result to unhygienic materials to absorb menstrual blood which can cause reproductive infections, urinary infection among others".
" Poverty, gender equality, cultural abuse, lack of access to basic services all affect women and girls making their menstrual hygiene needs go unmet, menstrual poverty needed to be addressed".
The Consultant however advised manufacturers of menstrual hygiene products to think of biodegradable friendly hygienic products that could be easily absorbed in soil.
Earlier in her remarks, the Convener, Engr. Maureen Chizoba Okolieukwu said the sensitization programme came about against the backdrop of the issue of poverty that surrounds menstrual cycle.
She maintained that menstrual hygiene day was a global event set aside to sensitize girls on personal hygiene, how to make reusable pad as an alternative way of procuring menstrual pad and take care of themselves as most of them were from low income families that could not afford disposable pad.
"During the course of this project, we will donate sanitary pads to secondary schools in Anambra state and ensure that it's at students' disposal"
About 30 schools in Anambra state have registered under the NGO as an Ambassadorial school, in which 500 students were present at the symposium.
The converner disclosed that the organization was embarking on "One Girl One Pad Initiative.
She further called on government, individuals, and foreign donors to key into this project.
In their separate speeches female student of Reedemers International High School Awka, Chukwu Esther, Mother of Mercy Girls Secondary School Otolo Nnewi Nwajide Somtochukwu and Nawfia Community Secondary School Chiamaka Ochuba while sharing their menstrual experience and challenges expressed delight over the programme, saying that they had learnt not to be ashamed of their menstrual cycle and was ready to go out there "and teach others what they have learnt learnt.
They solicited with government to provide medicine that stops menstrual cramps in rural communities in health centers.
Representatives of Achieving Health Nigeria Initiative (AHNI) who donated 300 sanitary pads for students gave a comprehensive lecture on HIV/AIDS prevention and care.
Every 28 May, the day is set aside to highlight the importance of menstrual hygiene care and raise awareness of issues faced by young women and girls who do not have access to sanitary products.