News
You can't win Anambra 'the Imo way', APGA tells Gov Uzodimma
APGA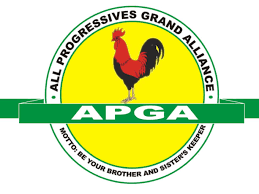 The National Coordinator, All Progressives Grand Alliance, Media Warriors,Chinedu Obigwe, has counseled the Imo State Governor, Hope Uzodimma and co to perish the idea of winning the Anambra State November 6 governorship poll.
He said the APGA leadership in the state had put up deep taproots through legacy projects that no voter in the state would look the way of any other political party in the state in elections.
Obigwe was reacting to a statement credited to the Imo State Speaker of House of Assembly, Paul Emeziem that Uzodimma would win Anambra State for the APC with ease.
Obidigwe said," The assurance Iam giving the Speaker of Imo State House of Assembly is that Gov Hope Uzodimma will suffer worst disgrace in Anambra more than the disgrace he suffered in Edo State.
"Anambra no be Imo that Uzodimma conquered through Ben Johnson way is the new slogan on the lips of Anambra electorate.
"We wonder the magic Uzodimma will do to win Anambra for APC because his Ben Johnson way magic will not work in Anambra.
"Boasting that APC will win Anambra can be likened to saying that a camel can pass through the eye of a needle and we all know that it is not possible.
"Good a thing that anywhere you go in Anambra what you will be hearing is that APC only hope of winning Anambra State is through rigging.
"Let the Andy Uba put all his hope on Uzodimma because I know very well that ndi Anambra will frustrate their plan in such a way that the hope he has on Uzodimma will at the end of the day turn to be a hopeless hope.
Obigwe added,"This forthcoming November 6th election cannot be rigged because Anambra electorate are determined to ensure that their democratic will prevails .
" We will not fail to say back to sender to imo State Speaker for his evil wish for ndi Anambra because for him to say that Uzodimma will win Anambra for APC is an evil wish against ndi Anambra, once again, I say back to sender to such evil wish.