News
You'll regret if we storm Lagos, IPOB warns Igbo attackers
News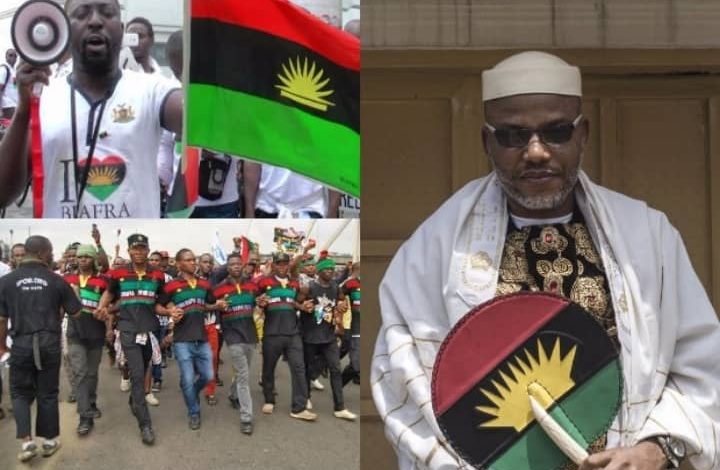 Tony Okafor, Awka
The Indigenous People of Biafra (IPOB) has warned the traducers of the Igbo in Lagos to stop or face catastrophic consequences.
The separatists gave the warning on Thursday in a statement circulated by its media and publicity secretary, Emma Powerful.
IPOB's reaction followed the molestations of the Igbo in various parts of Lagos during the February 25 and March 18 polls in the area.
In the Thursday's warning, IPOB vowed to confront henceforth any undue molestations of the Igbo in Lagos in any manner howsoever.
The secessionists, however warned Ndigbo to stop investing in Lagos, enjoying them to start making preparations for mass exit of Lagos, any time soon, stating that at the interim, they should form gallant groups to defend themselves from any physical harm.
The group's statement read in part, "The global movement and family of the Indigenous People of Biafra (IPOB) ably led by the great indefatigable liberator Mazi Nnamdi Okwuchukwu Kanu condemns the numerous abductions and attacks on Ndigbo resident in Lagos by the notorious thugs and criminals led by MC Olomo, who is the leader of Lagos State Government political thugs.
"The anti-Igbo sentiments, threat, attacks, and abductions of Igbo traders, residents, and businesses threatening them to vacate Lagos is a threat to the entire Biafra nation.
"It is quite unfortunate that Yoruba political, traditional, and religious leaders are keeping quiet on the raging anti-Igbo sentiments in Lagos, Nigeria, which shows that they are on the same page to forcefully eject Ndigbo out of Lagos.
"The bigotry and parochialism that polititcians through their political thugs have recently demonstrated against Ndigbo has shown that the aged long bitterness can't be healed. One thing certain is that Ndigbo will vacate Lagos, and we don't expect any mediation to stop such exodus as it's bound to happen soon.
"At the interim, we encourage Ndigbo to form gallant groups to defend themselves from the tribal vagabonds and political thugs. The criminals and cultists recruited by the politicians are pushing the Igbos and expecting us to react and we must respond to them shortly.
"We are going to settle the problem with Igbo and Yoruba in a way people will marvel and nobody should blame us, Igbos have been monitoring these criminals. Those behind this devilish activities against Ndigbo must regret their actions soon. Every Biafran must prepare to leave Lagos and don't say we didn't inform you.
" Nevertheless, we are urging Ndigbo both men and women to prepare to vacate Lagos. Only a person who doesn't have a place would be annoyed when your host asked you to leave his or her house. We acknowledge that many of you have built many mansions and markets in Lagos.You have a choice of selling those properties, mortgage them, or lease them while you journey to your fatherland for your safety.
"We have existing markets in all parts of the Eastern Region that are enough to accommodate our people. The international markets in Ebonyi, Imo, Abia, Enugu, and Anambra States will accommodate all the dealerships ready to relocate to our region.
"These markets can be expanded while many new markets will be built. IPOB will stand behind every relocation and development of international markets in Biafra Land.
"Therefore, we urge the newly elected governors and House of Assembly Members in the Eastern Region to work with communites to make land available in every province for international markets and industrialization projects.
"Again, we have to be involved in making sure that our people bring back their motor spare parts and we expect other markets to relocate from Lagos to Igboland. We advise them to start it quickly. We are delighted that our people are realizing that Nigeria is not for them, and the thought of relocating their businesses back to the Eastern Region is long overdue.
"Those in Lagos should know that they are not in any way doing better than the businesses in the Eastern region. They should come back to avoid losing their precious lives and properties to the holigans working for political conspirators.