Education
ZLP HoR Candidate Rewards Two Brilliant Pupils with Full Sec Sch Scholarship
Education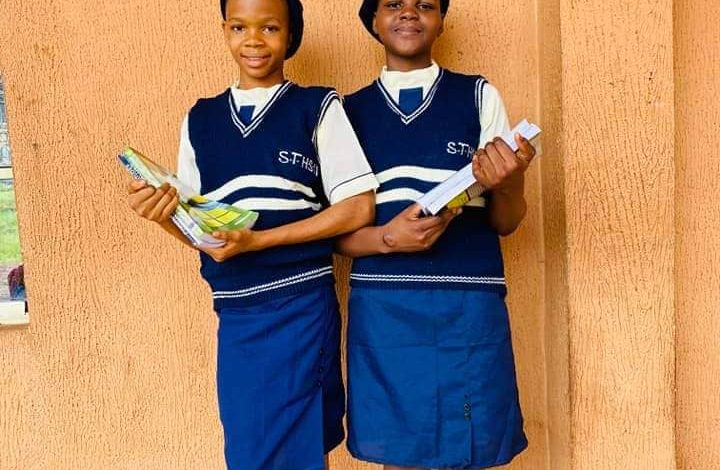 Candidate of the Zenith Labour Party, ZLP for Oyi/Ayamelum Federal Constituency, Dr Amaechi Nwachukwu has granted scholarship to two students.
The students were spotted during the graduation party of their school, Good Foundation Nursery and Primary School Umunya, during their passing out ceremony.
The students had performed brilliantly in presentations, leading Dr Nwachukwu to promise full secondary school sponsorship for them; Miss Chioma Mmadubueze and Mmasi Obidiozo.
Nwachukwu in a press release to notify of the fulfilment of the scholarship said: "In line with my love for education and in fulfillment of the promise I made in August, I have enrolled two graduated primary school pupils: Miss Chioma Mmadubueze and Mmasi Obidiozo into 6-year secondary school programme.
"Recall that on Sunday 7th August 2022, during the graduation ceremony for the primary-six pupils of the Good Foundation Nursery and Primary School Umunya, I announced full Secondary School Scholarships to two bright graduating Primary-Six pupils of the school after they overwhelmed everyone with their sound, articulate and brilliant speeches."
Speaking at St. Theresa's High School Umunya during the secondary school enrollment of the students, Dr. Nwachukwu, represented by his personal assistant on Media and Publicity, Mr Chibunna Esedo, emphasized that the scholarship is part of his corporate social responsibility and policy with the aim of promoting and rewarding excellence.
According to him, the scholarship will relieve the parents and provide a solid foundation for brilliant pupils to make them super stars in the future.
While explaining the need to keep the awardees on their toes, the renowned orthopaedic surgeon noted that the excellence of the students must be sustained throughout the 6 years education in the school in order continue the scholarship programme beyond secondary school level.
He said his huge investment in the education of the students over the years is not one motivated by his recent sojourn in politics, but with strong determination to change the narratives where sons and daughters of the less privileged are deprive of quality education in the society.
He encouraged the children to take their academics seriously and strive to achieve excellence and greater heights during their course of studies as the future of the country is in their hands.
The manager of the School, Rev Fr. Paul Nwankwo, represented by the School Bursar, Mr. Chuka Anoliefo, commended Dr. Nwachukwu over the Scholarship Award to the Pupils, urging them to pay back the good gesture with academic success.