Politics
2023: Soludo will ensure only APGA wins all seats in Anambra
Politics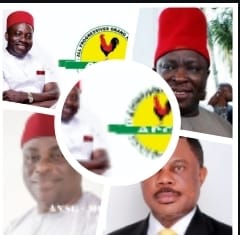 By Nwafor Okafor
The All Progressives Grand Alliance has said no other political party will win legislative seats in Anambra State under the Prof Chukwuma Soludo-led Government.
The National Co-ordinator of APGA Media Warriors, Chinedu Obigwe, stated this in a statement made available to newsmen in Awka, the Anambra State capital on Saturday.
HE SAID:
Soludo will leave no stone unturned in ensuring that APGA clinches all the legislative seats in Anambra and still make inroads to other Southeast States in the forthcoming general election.*
With INEC released calendar for campaign in the forthcoming 2023 general election, I deemed it necessary to share the mindset of Soludo publicly.
Soludo mindset is that under his watch APGA will win the 3 Senate Seat, 11 House of Reps seats , 30 House of Assembly seats in Anambra and still make inroads to other Southeast States.
He will support those that is loved by the masses to fly APGA ticket.
He is desirous of making APGA a formidable force to reckon with in Nigeria politics.
He will not joke with the 2023 general election because it's important for APGA to use the election to send a signal to Nigerians.
Soludo will work with other leaders of APGA to turn the party to a beautiful bride in Southeast and Nigeria at large.
Especially in Anambra, he will ensure that anybody that want to win election in the State must be a loyal party member that is committed to the growth of APGA.
On my own part, I will advocate for the emergence of those that has human conscience as APGA candidate and will expose evil minded idiots that does not have conscience because they are inhuman and not worthy of being entrusted with peoples mandate.
It is said that when the righteous is on the throne, the people rejoice.
The righteous in this instant case are selfless leaders that has good conscience.
Like I always say anybody that does not have good conscience is inhuman.
They are those that regards their fellow human beings as equals and not those that looks down on their fellow human beings.
We need the emergence of more leaders like Governor Obiano and Soludo that has good conscience.
For me, the 2023 general election is an opportunity for the electorate to choose the right leaders and am confident that ndi Anambra will do that.