Politics
2025: APC Tsunami unsettles Soludo, APGA
Politics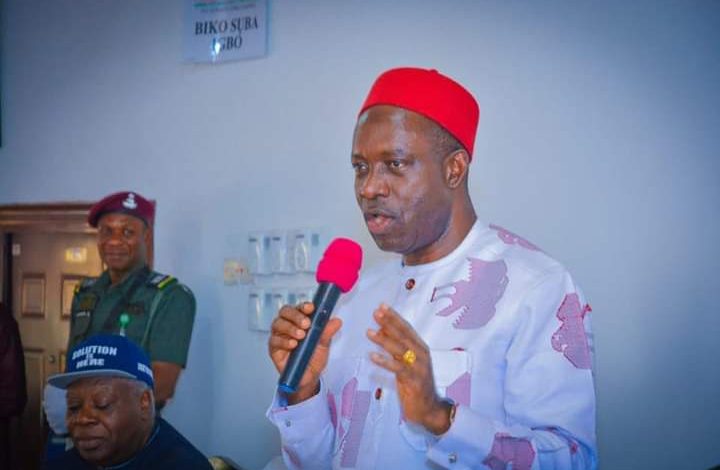 By Michael Chibuzo
Following the landslide victory of the All Progressives Congress in the just concluded Imo Governorship election where Gov. Hope Uzodimma won reelection with a clean sweep of the entire 27 LGAs in the state, the progressive gaze of the APC is set to shift focus to Anambra State.
Anambra is a state so blessed with all the ingredients needed to become an industrialised megapolis, yet 32 years after its creation Anambra is still punching far below its economic weight due to maladministration and lack of clear vision. This is of course not surprising because the ruling party in the state, APGA, have all but turned governance into one painful circus in the state.
Since the swearing-in of Prof. Charles Chukwuma Soludo as Governor of Anambra State on 17th March, 2022, Anambra State has become initiated into a system of government where propaganda, state-endorsed thuggery, cluelessness, and opaque financial transactions are the Standard Operating Procedures (SOP). Anambra State under the Soludo Solution rickety vehicle seems to be jerking non-stop at a spot and one wonders how the driver, Prof. Charles Soludo intends to convey Anambra to the promised African Dubai-Taiwan destination. Or was it a scam all along?
Barely two years after voting in 'Mr. Solution', a vast majority of Ndi Anambra have been expressing regrets over their November 2021 mistake where they were deceived once again with the 'Nke a bu nke anyi' slogan and asked to retain APGA and usher in a Professor of Economics that will come with a magic wand to fix Anambra State. A quick opinion sampling on the streets of Awka, Ekwulobia, Nnewi, Onitsha, Ihiala, Uli, Agulu, Otuocha etc will reveal a populace angry with the Soludo government of grammar and propaganda.
One would struggle to name one campaign promise, Gov. Soludo is on course to deliver halfway into his tenure. Anambra today is at the mercy of non-state actors harassing ndi Anambra in markets, motor parks and on the streets with all manner of extortions and illegal revenue collection. In fact, despite twice announcing tax exemption for petty traders, artisans, hawkers etc in state broadcasts, these categories of people are still being hounded daily by state revenue agents and their thugs to pay taxes and levies, most of which end up in private pockets.
Nobody in Anambra State knows our true financial state. Beyond the general contents of the N258.97 billion Appropriation Bill that was presented to the Anambra State House of Assembly by Gov. Soludo, nobody can confidently state what the actual revenue inflow into the state treasury from various sources looks like or how much has been expended by the state government so far. The Soludo government seem to have turned the business of governance in Anambra State into sole proprietorship where the owner owes no one any duty of accountability or transparency.
Soludo till this moment has not distributed to ndi Anambra the 5 truckloads of 50kg bags of rice, 40,000 bags of maize and other components of a N5 billion palliative intervention made available by the Federal Government to cushion the effects of the removal of fuel subsidy. Other states are distributing these items transparently to their people, while Ndi Anambra look on helplessly like orphans. Other states are already procuring CNG buses, while Soludo is still measuring the height of stone base for Ndi Anambra.
However, my happiness is that in life there is always a day of reckoning. That day seem to be manifesting a little too soon for Soludo. Soludo was betting on playing the 'Nkea bu nke anyi' card to get re-elected in 2025 no matter how badly he performed in office. Unfortunately for him, the pulse of ndi Anambra suggests they have given up on the Soludo administration and are no longer interested in party identity since that experiment has failed spectacularly since 2014. They need a better alternative.
A very exciting alternative has however presented itself in the form of the All Progressives Congress, which is the ruling party at the center. The APC, which is the defacto opposition in Anambra State has been undergoing a massive transformation and repositioning. The Anambra APC is witnessing a great influx of progressive-minded individuals including elected public officials and unrepentant patriots desirous of transforming Anambra into a modern society where development is orderly and accountability not a favour to the people but their basic right.
This reality of an APC gathering immense momentum in Anambra especially with the recent entry of Sen. Ifeanyi Ubah into the party, has made Gov. Charles Chukwuma Soludo increasingly jittery. It is dawning on him with every passing day that there is a very huge possibility of an APC candidate easily unseating him as Governor in the 2025 Anambra Governorship election. Soludo already faces an insurgency within his party due to his monarchical style of leadership. A resurgent APC with strong political heavyweights and great progressive technocrats and intellectual is the last thing Soludo will pray for.
Unfortunately for Soludo, the dynamics have changed. Ndi Anambra are now desirous of effective leadership, faithful implementation of promises, a safe and secure state where their businesses can thrive without harrasment by state-sponsored thugs as well as accelerated infrastructural renaissance that is not founded on propaganda. They will no longer sacrifice the prospect of supporting an individual that can perform notwithstanding the political party, in favour of allegiance to an APGA platform that has become so mediocre that states like Ebonyi have now made Anambra State look like an urban slum.
The battle to rescue Anambra State from the grip of mediocrity has commenced and the winners will be ndi Anambra as they embrace a progressive new dawn.