News
Civil war: We won't forgive Queen Elizabeth, IPOB vows
News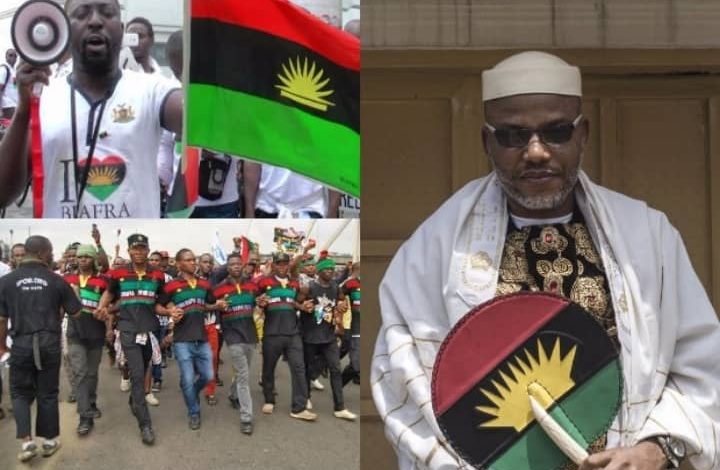 By Tony Okafor, Awka
The Indigenous People of Biafra, (IPOB),
has vowed not to forgive late Queen Elizabeth, over her role during the Nigeria/Biafra civil war.
The secessionists and commended Prof.Uju Anya, for her remarks on the Queen of England and Buckingham Palace, adding that her position on the late Queen and British Government represented the opinion of over 98 per cent of Biafrans.
Commending her, the IPOB media and publicity secretary
maker, Emma Powerful, said
if not for the viral comment and
counter comments on Twitter, IPOB
would not have known the person
called Prof. Uju Anya.
"But what is certain is the pains and scar of the Biafran genocide which lives with every man or woman with Igbo blood.
" Prof. Anya's viral statement on late Queen Elizabeth's role in the mass murder of innocent citizens of Biafra during the 1967 – 1970 genocidal war and African colonization, has shown that the history of Biafra genocide and issues of colonization cannot be forgotten unless it is discussed and addressed.
"The British Government and her allies under the leadership of Queen Elizabeth, supplied military equipment and manpower to Nigeria, to wipe out Biafrans. They used their propaganda media, BBC, to label Biafrans rebels, and
prevented any assistance to Biafrans.
The pro-Biafra agitators added, "Many
Biafran lives were wasted, including
the family members of Prof. Uju. The world should know that Biafrans both young and old will not forgive the late Queen and the British people, especially
the politicians unless the British Government allows Biafrans to
regain their Sovereignty through Referendum. "
According to them, the late Queen
and British Government changed Aburi agreement between Dim Chukwuemeka Odumegwu Ojukwu, the Biafra leader, and Yakubu Gowon, with the sole aim
of teaching Igbo or Biafran people
lessons, because of their resilience, determination and resistance from British colonization through Ekumeku warriors, and other groups that stood on their ways.
The maintained that the Queen's interference thwarted the amicable
agreement by convincing Gowon not to abide by the Aburi agreement adding that the pain and agony of this loss will never go unless the British Government stops sabotaging Biafran quest for
Independence, Biafra Nation and
support Biafra to achieve Biafra
freedom.
He added, "Biafrans do not rejoice over
the death of anybody, neither do
we mourn the death of evil doers,
especially murderers. The Queen of
England committed many atrocities
against humanity and God
Almighty. The Queen was a mass
murderer, hence Chukwu Okike
Abiama and our Ancestors, forbid
us from mourning such a person".