Education
Education for People with Disabilities will Enhance Their Productive Capacity – Igwe Orizu
Education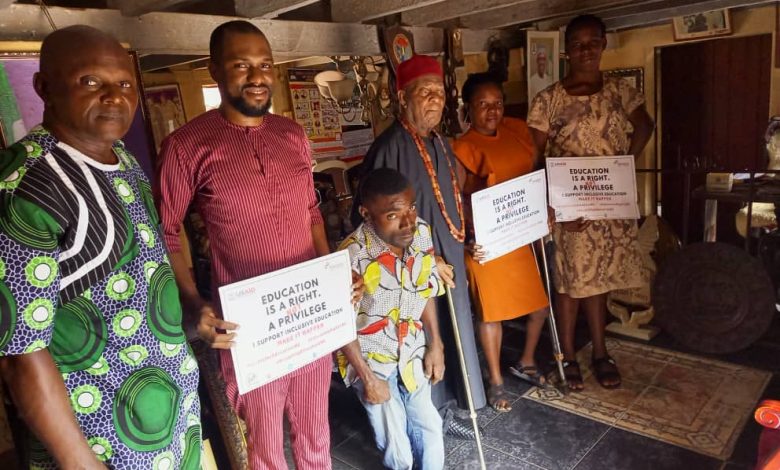 The longest serving monarch in Anambra State and traditional ruler of Nnewi, Igwe Kenneth Orizu, has called on government at all levels to ensure inclusive education for persons with disabilities to enhance their productive capacities.
Igwe Orizu who was addressing members of the Joint National Association of Persons with Disabilities, JONAPWD, who paid him a courtesy visit in his palace, noted that inclusive education will boost the morale of PWDs and give them a sense of belonging.
The nonagenarian monarch pledged to offer necessary assistance towards ensuring that the campaign for inclusive education succeeded in Anambra state.
To this effect, Igwe Orizu directed the Palace Secretary to link the Advocacy Team with the People of goodwill to further advance the project.
The Consultant to JONAPWD, Anambra State Chapter on inclusive education, Mr. Onyekachi Ololo, had earlier sought the support and assistance of the traditional ruler in driving social and attitudinal change in inclusive education in Anambra State as this will boost the technical support from JONAPWD at the National level, and the operational support of Palladium and USAID in advancing Inclusive Education in the country.
He listed the objectives of the projects to include: building strong allies and champions across communities in Anambra state towards promoting inclusive education,
seeking support in raising public awareness and sensitization on inclusive education as well as extracting traditional voices towards making sure that students with disabilities have unfettered access to inclusive education.
According to him, "to amplify the attention and buy-in of traditional ruler required to influence policymakers, institutions, and other relevant stakeholders on inclusive education in Anambra state".
The objective, he went further is also to foster traditional respect and solidarity that will enable other critical stakeholders to add their voices and solve inclusive education problems in their traditional settings.
He explained that the opinion of the traditional rulers could drive immediate and extended families of persons with disabilities in reshaping perceptions and communal culture on inclusive education.