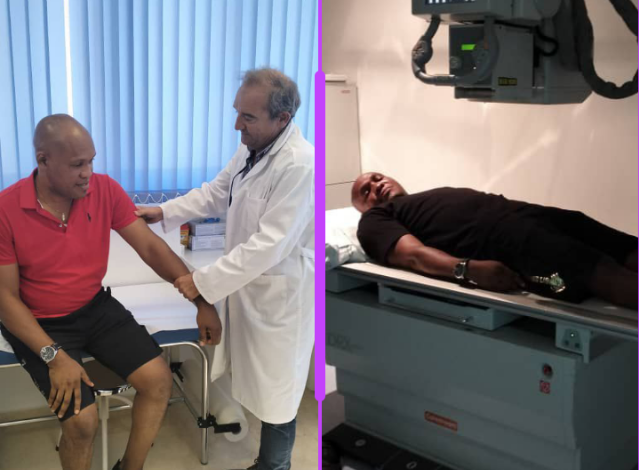 ~ Says, Udobi, Nweke fighting me because they illegally registered Ifitedunu at CAC
By Ifeizu Joe
President General of Ifitedunu community in Dunukofia local government area, Chief Uchenna Nwoye Oragwuncha who was assaulted by thugs supposedly sent by a chief in the community has been flown oversea for medical attention.
Orangwuncha had been attacked at the community market square, where he had gone to supervise projects he was building for the community.
Speaking to THE RAZOR from his hospital bed in Malaga, Spain, Oragwuncha said: "Since that 22nd of July this year after Vincent Udobi's led thugs attacked and beat me up like a common criminal at Nkwo market, I have not been myself.
"I don't breathe very well anymore and from the result of the X-rays carried out on me, the beating affected my spinal cord."
"I narrowly escaped death on 22nd July this year at Nkwo Ifitedunu where I was executing some community projects; when suddenly one Vincent Udobi popularly called Ike Dunukofia and his fierce looking thugs allegedly swooped on me, panel-beating me and my executives so mercilessly.
"The pains from the terror unleashed on me still palpitates. My spinal cord was affected and it is costing me millions of money to get treated abroad."
Before going abroad, Oragwuncha had alleged that Udobi and his men had banned him from the community, insisting he was an illegitimate president general of the community.
Udobi who had earlier spoken with THE RAZOR insisted that his group did not beat up Oragwuncha, adding that what was seen in a viral tape of the manhandling of Oragwuncha was merely a fight between his men and Oragwuncha's.
Meanwhile, the Anambra State government has insisted that Oragwuncha remains the President General of the community, as he was validly elected by the community to lead.
Commissioner for Local Government and Chieftaincy Matters, Hon Tony Collins Nwabunwanne who spoke to THE RAZOR in his office over the viral tape of the manhandling of the community leader insisted that Oragwuncha was the only recognized president general of the community.
Oragwuncha while speaking to our correspondent said, "Part of the major reasons why the past PG, Mr Samuel Nweke and his cohorts are fighting me with everything they have, was because Mr Samuel Nweke registered Ifitedunu town union at CAC.
"He made himself and his allies the board of trustees members. They sold the communities properties claiming to have the sole right to sell community properties since they are the board of trustees members of the community.
"Recall that the registration of the community to the CAC was done without the knowledge of the general assembly and even the traditional ruler of Ifitedunu Igwe Dr Emeka Ilouno was also not aware of the purported registration.
Mr Samuel Nweke while he was the PG, used the names of dead indigenes to form part of the members of the trustees, which the act is considered forgery.