Column
Igbo will reap benefits of Ubah's defection to APC soon – Aide
Opinion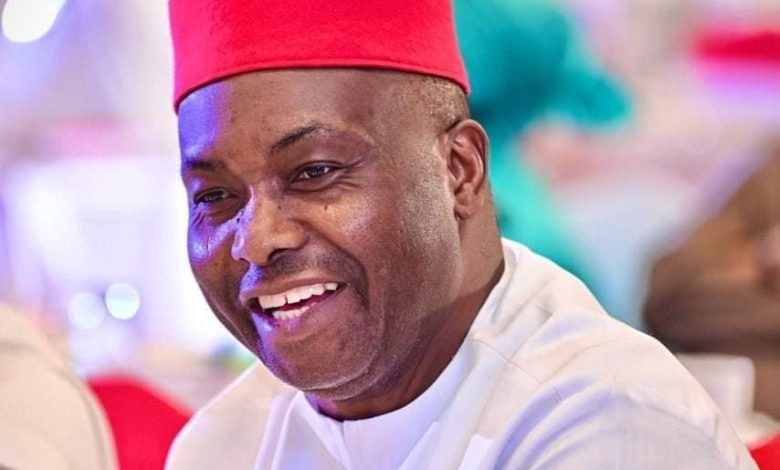 A media aide of Senator Ifeanyi Ubah, Mr Kamen Chuks Ogbonna has said that Igbo land will reap the benefits of Ubah's defection to APC soon.
Ubah had last week defected to APC from his former party, Young Progressives Party (YPP).
Ogbonna in a piece he authored said already, there is a rush by politicians around Anambra to join APC, because of Ubah's defection. He listed improved security in the South East as one of the benefits that will accrue to the zone, when Ubah begins effective liaison with President Bola Tinubu's government.
Excerpts of Kamen Chuks Ogbonna's piece below…
The Senator representing Anambra South Senatorial District ,Dr Ifeanyi Ubah CON, is known for going to where the terrain is tough to squeeze out political capital and trigger development for not just his Senatorial District but for Ndi Igbo in general.
In recent times, Senator Dr. Ifeanyi Ubah CON has championed the fight for the restoration of security to the entire southeast region.
This he set about , in various ways, one of which was creating a model security architecture using Nnewi for the pilot scheme in order to showcase his belief that a secured Southeast region is possible where there is political will and the capacity to deliver. Today, Nnewi has emerged the safest city in the entire southeast region with the last new yam festival in the town, witnessing an unprecedented turnout and mass return from the people .
Senator Ubah went on to travel to Germany (a country hitherto dreaded by the Igbo political class as a result of the notorious Ekweremadu treatment some years ago), where he held strategic meetings with our people living in diaspora, attended a cultural event and was also seen in a viral video joyfully playing the drum in the midst of several joyful igbo sons and daughters
Senator Dr. Ifeanyi Ubah CON has also since gone ahead to hold several meetings with key stakeholders both at home and diaspora and participated in the security summit organised by the Southeast Governor's Forum where several regional stakeholders including Ohaneze Ndi Igbo and several members of the economic and political crème de la crème in igboland gathered to brainstorm on the way forward for the Region.
His decision to join the All Progressives Congress (APC) after securing firm commitments for Ndi Igbo from the president Ahmed Bola Tinubu GCFR led ruling APC party is a master stroke that is set to start yielding huge results in the nearest future.
That the Southeast region, with its five states, is controlled by four different political parties, serves as the clearest indication that the region has since lost its mojo, jumped off the political cliff and commenced a downward spiral away from national reckoning to the bemusement of the other regions
President Ahmed Bola Tinubu GCFR's strategic moves to bring the Southeast region back to national reckoning by giving us a sense of belonging again is by far the biggest show of good intent by a sitting President of the federal Republic of Nigeria in recent times.
Today, this same president, through his recent appointments, has handed over the entire road infrastructural development in the country to ndi igbo by appointing two prominent and capable igbo sons as the Minister of Works and the Director General of Federal Roads Maintenance Agency (FERMA)..
This action by Mr. President is a sharp departure from what was obtainable in the APC during the previous regime.
It is early days yet , and the proof of the pudding is in the eating but the glaring fact is that Senator Ubah's decision to lead our dear state Anambra to the centre is a daring one , driven by his zeal to bring about a secured and prosperous Anambra and the entire southeast region
It is a strategic move that should be supported by every son and daughter of Anambra beyond mundane political sentiments and emotional short-sightedness.
Fortunately, our people are sophisticated when it comes to politics and know those politicians that mean well going by their previous track records
The recent reports coming from the various wards in Anambra, of people rushing to quietly register with the APC since Senator Ifeanyi Ubah announced his defection to the party is the biggest prove that indeed when the Selfless is in power, the people truly rejoice and have no problems in lining up behind a shepherd that they can trust .
It is yet another Monday in igboland, and many of our cities are going to shut down once again and lose huge revenues in Commerce as a result of insecurity,
This too will surely come to pass..