News
Igweship Crisis: Obelle does not exist in Nawfia – Chijioke Nwankwo
Community news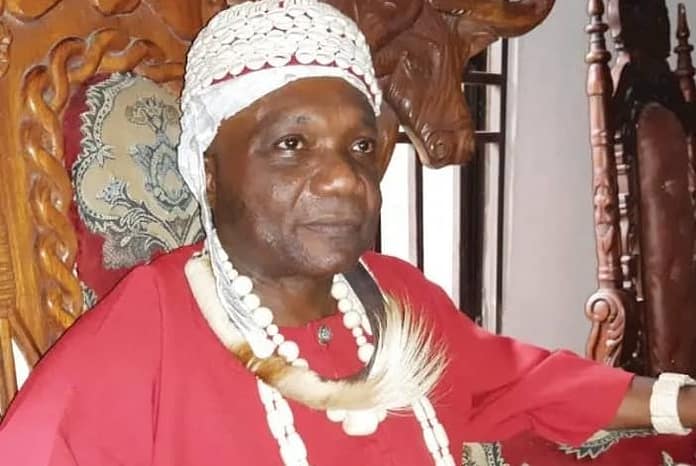 ~ Shows off certificate of recognition
By Ifeizu Joe
As the tussle for the monarchical stool of Nawfia community in Njikoka Local Government Area of Anambra State continues, allegedly deposed monarch, Chief Chijioke Nwankwo has insisted that he remains the monarch of the community, insisting that his rival, Chief Dan Obelle does not exist.
Nwankwo who granted interview to THE RAZOR team in his palace said he doesn't know how anyone else could claim to be the Igwe, except himself.
He said: "My father died on February 15, 2000. There after the whole cabinet sat together and the chairman of the cabinet stepped down and they made me the regent. On November 5, 2001, the whole town came together and said I was the Igwe. The local government chairman then presented me to the governor, Dr CC Mbadinuju and my certificate was given to me in November 15, 2002. From that time till 2020 when we went to Abuja with other monarchs, I had not problem as monarch.
"As for the Abuja trip, let me say that I was the person Arthur Eze called about that Abuja trip. We went to Abuja for our five percent statutory stipend, which is embedded in Anambra traditional rulers law 2007, section 34. We didn't go to beg for any money, we went to get paid according to law. While in Abuja, we were suspended. 13 of us came back, and some went to beg the governor.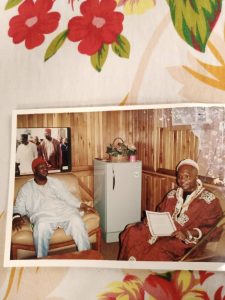 "The reason I refused to go to beg the governor was because I felt I hadn't done anything wrong, whether in law or morality. I went to Abuja on a mission, and people went from my town to Abuja to go and complain to the governor. So I decided to go to court to fight my battle.
"On the 8 September 2020, I went to court and from that day till today, I have been the Igwe, because I have always had one injunction or the other that has kept me as the Igwe. On March 1, 2021, we filed an interlocutory injunction, A/286M/2021, before the court could hear the motion, they went and gave certificate, and you know it is a settled law that once a case is in court, you don't preempt the court, and that is not arguable."
He said the certificate was hurriedly given to Obelle on 11 March, just six days before Obiano's departure as governor, in violation of court sitting.
"We now filled another motion, A/405M/2022, to set aside that certificate and the court duly set it aside on June 21, 2022. Till this moment I'm talking to you, no higher or lower court has set that ruling aside. An appeal, which Dan Obelle did, is not stay of execution. I have been in court a lot to know this, and I have been in court in America. It is hightime you warned some people, because very soon I will pick up my sledge hammer, and I don't care who is involved. If somebody anywhere writes what is wrong, I will file a form 48.
On the claims that he was only made a regent by the town and never a monarch, Nwankwo said, " Assuming they were right, 20 years of being a monarch and they are coming to challenge it now? They are already statute barred, without going into the case. You can ask any lawyer. They are just wasting my money and everybody's time. They are already status barred. I just told you that Nawfia people made me the Igwe. I have this in video, and I don't want to show anybody for now, because it is not a subject matter jurisdiction.
"We are in court and what we are trying in court is whether the government of Obiano, subject to Anambra traditional ruler's law, section 10 and 16 should have removed me. I know the law myself, I don't have to talk to any lawyer. We are not even talking about whether anyone else is Igwe or not. What court is determining is the legality of my removal or not.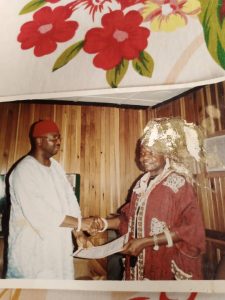 "Obiano's government suspended me, and pursuant to fundamental human right 36. 1, go and review it when you get home and see. It is explanatory, whether I'm right or wrong. There must be due process, somebody must be tried before he is convicted, whether crime of civil case. It is called due process, and nobody did in the case of the suspended traditional rulers.
"Section 16 of Anambra traditional ruler's law says that there must call a commission of enquiry, not withstanding section 10, and try you. If the commission of enquiry finds you guilty, they now send it to the state House of Assembly, to get two third, before dethroning you. Was that followed?
"After 20 years, you wake up from slumber and say you are conducting Igwe election. This town, Nawfia made me Igwe by vote, and I have the video, but I won't give anybody because that is not the subject matter. I can give it to you people to watch it, so that you see it for yourselves.
"How could they have waited for 20 years, if they think I was only made a regent and not Igwe? Even in civil matters, statute of limitation kicks in from eight to nine years.
"We are dealing with criminals. Is it because I kept quiet? We know where they are going and how they are spending money. Sooner or later, I will let loose, and what I will say will be the truth and nothing but the truth."
Speaking in the claim by his rival that he was being supported by the entire community, Nwankwo said: "Let me tell you, if you guys had been here on 15 September when I had my new yam festival, you will know who is popular. He is just buying people. For me, I am not buying anyone. I did not print invitation and this place was jam-packed with people. It is the so-called elites that are responsible for selling our land, which I stopped as Igwe, they are the people supporting him.
"Go into the town and ask them who is the Igwe, you will know what they will tell you. This is a cabal. I want nothing from being Igwe, I made my money in US, and They will pay me from now till I die. I'm not extravagant, so I know what I'm looking for. What matters is that tomorrow, I will still win them. Let me tell you, there was no election for Igwe, what they committed is fraud and people are supposed to be in jail right now. On the 25 March, 2021, Anambra State government, with Greg Obi as commissioner for Local Government and Chieftaincy Matters through a letter told them not to hold any election for Igwe. I am in possession of the letter.
"You know that my own, I don't talk, but I keep document and facts. Even the election they held, I have the video. I'm a trained investigator. Most of the things they're telling you are lies. I have the videos in my possession, but I think it is not necessary in court because that is not what we are discussing in court. What the court is determining is whether my removal was lawful, and not whether Dan Obelle is Igwe. I'm still the Igwe and I will give you copies of the ruling of the court Judgement.
"Government told them not to hold any Igwe election, and they went ahead and held election and two Igwe emerged. Did the government at anytime write or monitor that election? How can the government give certificate without being presented to Njikoka, as enshrined in section 7 of Anambra traditional ruler's law. Even the local government chairman has to read the law and follow the steps.
"I have kept quiet for too long. There is a process, once your town crowns you as Igwe, you become Igwe elect, and then you go to the local government who in turn does the investigation and presents you to the governor. That is what the Anambra State traditional ruler's law 2007 states in section seven. I have a copy here.
"He is lying that everyone in Nawfia is supporting him. Let me enter my vehicle now and let's go into the town and let's know who the people recognize as their Igwe. The people are what matter to me. If elite is supporting him, they are the people they are using to syphon our money. This must stop.
"I'm about to disgrace those so-called elites, who indulge in illegal activities. I have the records. Let them be warned, because I will soon start releasing information about them. Some of them are known criminals, including the person who is telling you he is the Igwe. I know what I will release about him and he will keep quiet."
When confronted with the Anambra State government's position that none of them was recognized as the Igwe, Nwankwo said: "Government didn't say that. Go and read that press release very well. He (commissioner for Local Government and Chieftaincy Matters) rather said that he is aware that the matter is in court. What court said it that status quo be maintained. The court even went further to explain what status quo means. What the court meant was that we should go back to where we were before 2020 when I was suspended. Read what the commissioner said very carefully, the commissioner can not stop the court.
"I didn't commit any offence, you cannot remove somebody because he went to Abuja. There is no law stoping me from going to Abuja. The court has said what it said, and they are bound to obey it. As for the Nawfia constitution he is talking about, it is a subject of litigation as I speak to you. I have opened up to you people. You know I usually don't talk, I just wait for people in court, but I needed to explain this to you.
"The court is not talking about whether the other man is Igwe or not. What the court is talking about is me and the Anambra State government and the process of my removal, whether it is right or wrong. We are not talking about whether the other man is Igwe or not. He is not and the court is not talking about that."