Media Watch
Man of the Year: Anambra NUJ presents Nomination Letter to Igwe Onyido
News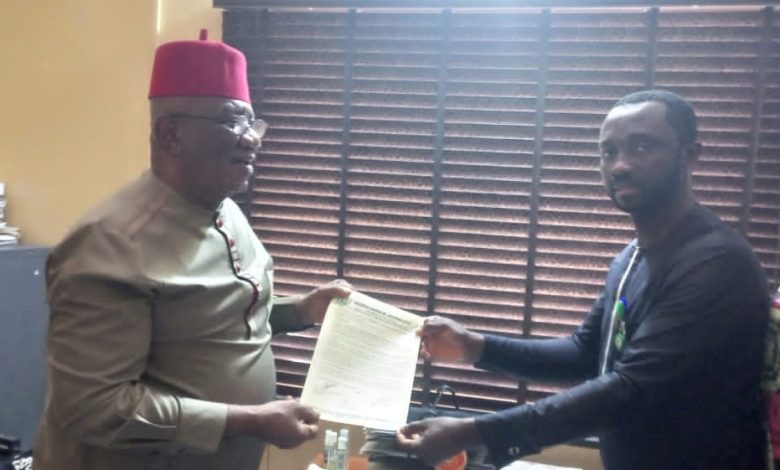 By Chioma Abigail Mbah, Awka
Following his emergence as the most popular nominee in the 2023 edition of NUJ Anambra State Man of The Year Award, the NUJ has presented HRH Igwe (Pharm) Alex Uzo Onyido, Ezechuamagha of Ogidi Kingdom, with the letter of nomination.
While receiving the nomination letter at his Ogidi Pharmaceutical firm head office, Igwe Onyido, who was beaming with joy, described his nomination as one of the greatest honours he has received in recent times. This is also given the rigorous screening and voting process involved in selecting the NUJ Man of the Year.
"I have received so many awards but the NUJ Anambra 2023 Man of The Year Award is not only unique but special. It is a testimony that it is not only my subjects, the Ogidi citizens, value what we do. My nomination also goes to show that the world is watching and taking note of our leadership impact in the society, because NUJ is the eyes through which the world sees what everyone does. I receive this nomination with joy. And I thank those who nominated and voted for me."
He described NUJ as an important organisation which has a huge responsibility through their reportage geared towards engendering positive change and socio-economic prosperity of Anambra State and Nigeria as a whole.
Going down the memory lane, Igwe Onyido recalled his silent contributions towards upliftment of society including employment of about 3,000 Nigerians directly, while engaging 5,000 others indirectly. In addition, 100 others are beneficiaries of his educational scholarships across board.
Presenting the nomination letter, the Anambra State Chairman of NUJ, Comrade Odogwu Emeka Odogwu, PhD, described Igwe Onyido as not only selfless but unique judging by what he has done not only in Ogidi community but across Anambra and Nigeria at large in wealth creation, job creation and human capital development as well as building bridges of friendships across regions and religions.
Dr Odogwu, who led a delegation of other journalists to the monarch's pharmaceutical company to present the nomination letter, expressed amazement at the large number of staff under his employ.
He enjoined Igwe Onyido not to relent in his service to humanity which was a major factor that placed him ahead of other eminent contenders to the prestigious NUJ Anambra State 2023 Man of The Year Award.
Comrade Odogwu informed the traditional ruler that his industrial acumen and administrative sagacity as well as contributions to humanity, especially in advancement of the health sector, oil and gas, and manufacturing, helped to place him ahead of others.
He urged him not to relent in philanthropy, youth empowerment, job creation, and other developmental initiatives.
Igwe Ogidi is the Chairman of companies including Pal Pharmaceutical Industry, Ltd. Kano; Pal Oil & Gas LTD, Ogidi; Pal Plastic Ind.Ltd, Kano, and Alben Healthcare Industry, Ogidi.
He is the traditional ruler of Late Chinua Achebe's community, Ogidi in Idemmil North Local Government Area of Anambra State, and represents traditional rulers in South-East Governors' Forum Consultative Committee on Health (CCH).
The award ceremony is billed for 2nd November, 2023 at the Godwin Ezeemo International Press Centre, NUJ Secretariat Complex, behind the Central Bank of Nigeria (CBN) building, Awka. The event starts at 11 am.
NUJ Man of the Year Award is part of the activities lined up to mark the union's Press Week; a yearly event which provides journalists with the opportunity to review their annual performance, x-ray challenges and relationship with their internal and external publics.
The event will witness presentation of prize to the winner of the Prof. Chinyere Stella Okunna Award for Ethical Journalist.
Expected at the event are the Executive Governor of Anambra State, Prof. Charles Soludo, who will be the distinguished guest, while the Speaker of Anambra State House of Assembly, Right Hon Somtochukwu Udeze, will be the Special Guest of Honour. The National Chairman of APGA, Hon Barr. Sly Ezeokenwa will deliver the Keynote speech on the theme "Pragmatic Media Practice as an Antidote to Sustainable Development in a Distressed Economy: A focus on Anambra State"
Journalists from both online and traditional media, leaders of thought, government functionaries, students, and Anambra State indigenes among many others will also be in attendance.
The NUJ Anambra 2023 Man of the Year Award is awarded based on the track records of the nominees. The selection process was very painstaking to ensure that credible personalities who have distinguished themselves in their chosen life endeavours as well as impacted their environments emerge as winners.
The 2022 edition was won by the cerebral and successful banker, Dame Dr. Ada Umeoji. Umeoji, the Deputy Managing Director of one of Nigeria's leading banks, Zenith Bank, holds the national honour of Officer of the Order of the Niger (OON). Her sterling achievements, industry and humanity are also appreciated by her community which honoured her with the prestigious title of Agubataofia, a title that depicts her bravery and courage even in a male-dominated environment.