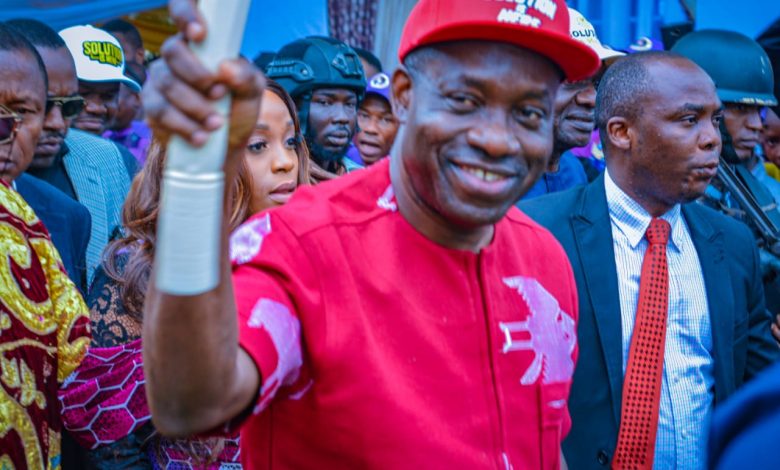 The National Coordinator of the All Progressives Grand Alliance (APGA) Media Warriors Forum, Chinedu Obigwe, has dispelled the story in some quarters that the Anambra State Governor, Prof Chukwuma Soludo, begged Senator Ifeanyi Ubah to praised him( Soludo) before a meeting of Ndi Anambra in Abuja.
In a statement on Monday, made available to our correspondent , Obigwe described the story as cock and bull; fabricated by Ifeanyi Ubah's political camp for selfish interest l.
Obigwe said , "They fabricated the story as an answer to those asking him what went wrong that made him to change over night and be blackmailing Governor Soludo unjustifiably after praising him to high heaven at Abuja town meeting.
" In that Abuja town hall meeting, Ifeanyi Ubah went as far as volunteering to be Governor Soludo campaign Director General for his 2nd term reelection in 2025.
Describing Ubah as an inconsistent character, the APGA media chief urged members of the public to disregard such rumour, stating that "Anybody that knows him( Ubah) very well will not waste time to tell you that he cannot be trusted.
Continuing, Obigwe said, "If you doubt what am saying ask Cosmas Mmaduka popularly known as Coschsris and you can as well ask Gabriel Chukwuma that is popularly known as Gabros..
Reminding Ubah that it is too early for him to think that the All Progressives Congress (APC) would give him its gubernatorial ticket unpoposed, Obigwe said,"Let's see how he will scale the hurdle of clinching APC governorship ticket because I reliably gathered that the real APC members from Anambra State are spoiling for show down with him.
"They are saying that he must go and take the back seat because he is still a baby in APC.
"The bigwigs of the party in Anambra are of the opinion that he will not join APC today and take their party governorship ticket tomorrow.
"The first hurdle for ifeanyi Ubah to cross is the hurdle of emerging APC governorship candidate in 2025.
"It's truly a herculean task for Ifeanyi Ubah and we will keep our fingers crossed to watch the drama unfold.
"For now, all that ifeanyi Ubah and his clueless political camp are doing against Governor Soludo is tantamount to chasing of shadow.
"Anybody that watched the trending video of the Abuja town hall meeting and compares Ifeanyi Ubah open confession with the recent cock and bull story he fabricated to twist what he said about Governor Soludo at that meeting will arive at the conclusion that his own words are meaningless to him and that he cannot be trusted.