Anambra Media Gist
Tension as 2 monarchs emerge in Awkuzu to replace late Igwe John Nnebolisa
Culture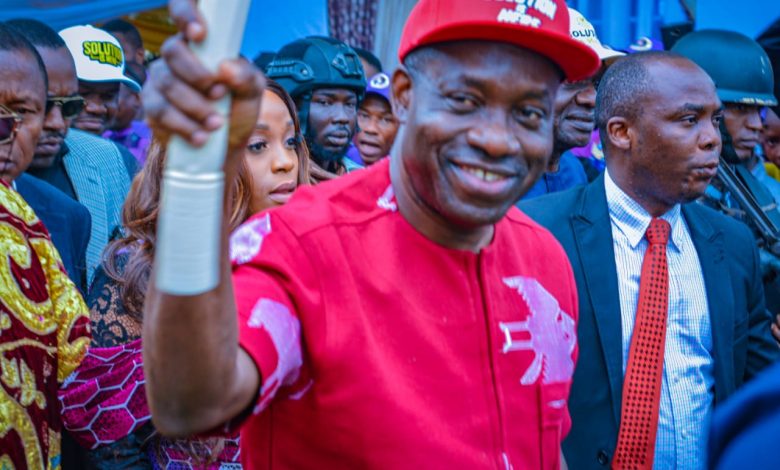 Our correspondent
With the alleged installation of Chief
Chibuike Okafor, on Monday, as the
traditional ruler of Awkuzu community,
Oyi Local Government Area, Anambra
State, two traditional rulers were said to
have emerged in the community.
The State Government had earlier recognized and issued certificate of recognition to Igwe Prof Charles Anikweze.
Crowning Okafor as the Ezeaganama
111 and authentic monarch of the
community, the community is sitting on keg power.
The Okpala, (first son)
of Awkuzu, Chief Nweke Ozoemena
Mgbike, aged 97, who crowned Okafor on Monday, said igweship stool of the community runs in the family of Aganama and not rotational.
He said,"Whoever that is the king of Awkuzu must be crowned here by me as the Okpala Awkuzu and receive (offor) the staff of office from me. Now that Okafor has been crowned today as the Ezeaganama 111 of Awkuzu, whoever that is against this crowning will be fought by the spirits and gods of the land.
" From today, being Nkwo market day,
he will be addressed as Igwe of Awkuzu
because he has been crowned. Igweship in Awkuzu is not rotational, it is inherited, always in Aganama family."
Contributing, three representatives
of the three quarters in Awkuzu, Ezi ,
represented by Aganama, Ifite-Ezeudene
and Ikenga-Ezeodiwe, expressed
satisfaction with the crowning.
Reacting, the prime Minister,
(Onowu), Chief Tochukwu Mgbako, said
that it was now that the community had
got their God-given monarch who
went through the normal process to be
crowned the monarch of Awkuzu.
"It is in the family of Aganama that
any Igwe must emerge and then be
crowned by the Okpala Awkuzu who is
aged 97. The last Igwe we had was Igwe
John Nnebolisa, who joined his ancestors in 2005," he hinted.
Also speaking, Chief Emmanuel
Obiemeka Oramulu, Onoselueze, said
that, "Government gives certificate but
community enthrones a monarch in line
with the tradition and culture of the
people".
Earlier, the Owelle of Awkuzu, Hon.
Peter Emenaka, stated that, peace has
been restored with the crowning of
Okafor as the monarch after about 18
years of Igweship crises.
Also, a popular traditional medical
doctor, Chief Oguejiofor Okafor Ezedibia,
stated that any monarch must be
crowned by the Okpala Awkuzu and
follow tradition in piloting the affairs of
the community.
In his speech, Hon. Dr Anthony
Jiendu, former Oyi council Area
chairman, High Chief Jude Anieka
and others expressed optimism that
with the installation, the community
will experience massive infrastructural
development, lamenting that Igweship
crises in the area tore it into pieces for
about six years.
Also, Ezeudene , Chief Okoye Agbata,
said that igweship was not rotational but inherited in Aganama family.
In his response, the newly elected
monarch thanked the people for finding
him worthy to be crowned their monarch
adding that whoever that wants good
thing, good thing will follow him.